Stop Trying To Lower Your Cholesterol – It helps Balance Your Hormones. In this video, Dr. Osborne discusses – The Cholesterol Metabolism Secret No One is Talking About.
Cholesterol is an extremely important molecule in your body, and understanding cholesterol metabolism is important to prevent hormonal imbalance and nutritional deficiency. No one ever stops to think or ask the question – Is Cholesterol Healthy?
Cholesterol is a precursor that helps your body make sex steroid hormones. In doing so, cholesterol is a central compound that is vital hormonal balance. Estrogen, progesterone, and testosterone all rely on cholesterol to be balanced.
Cholesterol is required to produce brain synapses – thus allowing brain cells to communicate with each other.
The side effects of lowering cholesterol over time can include reduced CoQ10, vitamin D, vitamin K, estrogen, testosterone, progesterone. Additionally, cholesterol is necessary to form bile acids. Bile acids are needed for detox and fat absorption.
One could argue that lowering cholesterol would interfere with a natural balance of hormones in the body.
Whether you are male or female, If you want to balance your hormones naturally, you need cholesterol. That being said…
If you are taking medicine to lower your cholesterol, start by having a conversation with your doctor, because if your levels are too low, it might be the reason for your hormonal imbalance.
To connect with Dr. Peter Osborne , call his office
281-240-2229
or visit:
On the web: https://drpeterosborne.com/
Facebook: https://www.facebook.com/DoctorPeterO…
Pinterest: https://www.pinterest.com/docosborne/
Instagram: https://www.instagram.com/drosborne
Twitter: https://twitter.com/glutenology
*These statements have not been evaluated by the Food and Drug Administration. This video is not intended to diagnose, treat, cure or prevent any disease. It is strictly intended for educational purposes only. Additionally, this information is not intended to replace the advice of your physician. Dr. Osborne is not a medical doctor. He does not treat or diagnose disease. He offers nutritional support to people seeking an alternative from traditional medicine. Dr. Osborne is licensed with the Pastoral Medical Association.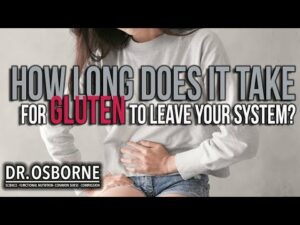 Gluten Shield - specially formulated for those seeking...