Think you might be gluten sensitive? Take the quiz:
https://www.glutenfreesociety.org/gluten-sensitivity-intolerance-self-test/
00:00 – does Symponi Aria affect glucose levels?
00:45 – berberine and cinnamon and their affects on blood sugar?
01:38 – does blood sugar control change during the menstrual cycle?
02:30 – my dad has pre diabetes. Should he cut out all carbs?
05:00 – what foods have vanadium?
05:30 – metformin
07:40 – air filtration
08:17 – can type 2 diabetes can be a symptom of beri beri?
10:43 – insulin resistance and the late stage diagnosis
12:43 – can diabetes cause skin tags?
15:20 – is there a connection/correlation between processed seed oils and diabetes?
15:55 – how many grams of carbs per day for a healthy diet?
17:29 – I have Hashimoto's and pre-diabetes. My doctor said that I am just as likely to end up with Diabetes 1.5. Any research on a connection?
18:00 – Why is insulin the go to drug when diet and nutrition can change diabetes?
18:35 – Insulin and disease risk
20:28 – can statins contribute to diabetes?
20:50 – What's worse: too much fructose, glucose or galactose?
21:10 – my big toe is numb. Could that be diabetes?
27:00 – why is my type 1 diabetic son always hungry?
27:41 – Wild rice is not a grain, correct?
29:00 – Hypoglycemic and eat a lot of vegetables, fruits and nuts. Are those easily converted into sugar?
29:40 – Type 1 and always have indigestion. What could it be?
30:20 – can cutting out gluten affect my Hashimoto's antibodies?
31:00 – Should I be taking Lyrica and Cymbalta for nerve pain?
32:15 – how best to heal from candida?
33:15 – can microbiome dysbiosis cause NAFL?
33:40 – how much sugar is too much?
34:00 – substitute light sources in the winter for getting in the sun?
35:30 – good sugar substitutes
36:30 – pancreatitis and diabetes
36:45 – is it wise to take a multivitamin as well as the vitamins and minerals individually?
38:41 – long distance cellular testing?
39:30 – warrior bread
To connect with Dr. Osborne visit:
Facebook: https://www.facebook.com/DoctorPeterOsborne/
*These statements have not been evaluated by the Food and Drug Administration. This video is not intended to diagnose, treat, cure or prevent any disease. It is strictly intended for educational purposes only. Additionally, this information is not intended to replace the advice of your physician. Dr. Peter Osborne is one of the most sought after alternative and nutritional experts in the world. A Diplomate with the American Clinical Board of Nutrition, a graduate of Texas Chiropractic College, and a doctor of pastoral science, Dr. Osborne is one of the world's leading authorities on gluten, nutrition, and natural health. He is the founder GlutenFreeSociety.org, one of the world's largest informational sites on gluten sensitivity. In addition, he is the author of the best selling book, No Grain No Pain, published by Touchstone (Simon & Schuster). His work has been featured by PBS, Netflix, Amazon, Fox, and many other nationally recognized outlets. For more information, visit us at https://www.glutenfreesociety.org/ or call 281-903-7527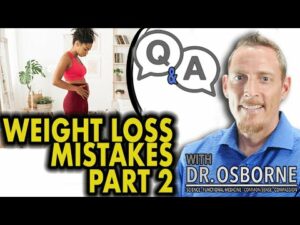 Think you might be gluten sensitive? Take the...