Are you prepared to stay gluten free during an emergency? Do you have your gluten free survival food stocked? Do you have a contingency plan if the power goes out, if a snowstorm or hurricane strikes, or if food shortages occur?
The reality of a natural disaster or emergency situation is very real.
I have personally been through several major events in the last several years, and I can vouch from experience that being prepared ahead of time helped keep my family and I healthy and free of gluten induced damage.
I'm sharing some of the best tips for gluten free emergency prepping in this episode of Pick Dr. Osborne's Brain!
00:00 – intro and overview: Chance favors the prepared!
11:30 – Emergency Preparedness – Food
37:00 – Emergency Preparedness – Tools and Protection
47:30 – Q&A
To connect with Dr. Osborne visit:
Facebook: https://www.facebook.com/DoctorPeterOsborne/
*These statements have not been evaluated by the Food and Drug Administration. This video is not intended to diagnose, treat, cure or prevent any disease. It is strictly intended for educational purposes only. Additionally, this information is not intended to replace the advice of your physician. Dr. Peter Osborne is one of the most sought after alternative and nutritional experts in the world. A Diplomate with the American Clinical Board of Nutrition, a graduate of Texas Chiropractic College, and a doctor of pastoral science, Dr. Osborne is one of the world's leading authorities on gluten, nutrition, and natural health. He is the founder GlutenFreeSociety.org, one of the world's largest informational sites on gluten sensitivity. In addition, he is the author of the best selling book, No Grain No Pain, published by Touchstone (Simon & Schuster). His work has been featured by PBS, Netflix, Amazon, Fox, and many other nationally recognized outlets. For more information, visit us at https://www.glutenfreesociety.org/ or call 281-903-7527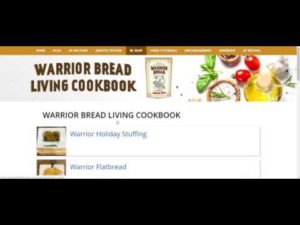 Grab Warrior Bread Here: https://www.glutenfreesociety.org/shop/supplements/warrior-bread-grain-free-bread-mix-presale/ Check out our...