Obesity… This is a huge problem for many, and added gluten sensitivity does not help! The first step is recognizing that IT IS a problem. The goal for tonight's show is to provide the tools and information needed to maintain long term, healthy weight loss. In the video, we talk more about:
00:00 – Intro to Tonight's Topic: Weight Loss Factors
07:00 – Calorie Ratios: Healthy BMR
13:00 – Macronutrients Ratios: Carbs, Fats, and Proteins – Balance is Key (the rule of thirds)
20:00 – Dietary Causes of Weight Loss Resistance: Food and it's Hormonal Affect
25:00 – Supplements to Support Calorie Conversion into Energy
30:00 – Chemicals "Obesogens" in Food: Pesticides, Plastics, Cosmetics, and Masks!
37:00 – Dietary Causes of Weight Loss Resistance: Hormones and Medications
41:00 – "Grainbesity" Cycle: How Grains Cause Weight Gain
47:00 – Exercise: Don't Overdo the Wrong things – You have to start somewhere!
54:00 – Q&A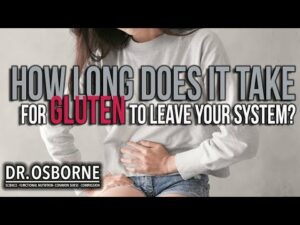 Gluten Shield - specially formulated for those seeking...