Jodi Cohen is a bestselling author, award-winning journalist, and founder of Vibrant Blue Oils, a top resource for essential oils online, which welcomes 300,000 visitors every year. Her #1 bestselling book, Healing with Essential Oils, synthesizes decades of leading scientific research to help explain how essential oils can work to support the body and the brain. Random House will publish her second book, Essential Oils to Boost the Brain and Heal the Body, on March 16, 2021.
After personally experiencing the profound physical and mental benefits of essential oils in addressing her own anxiety, insomnia, and autoimmunity, Jodi wanted to know why. Today, she holds certifications in nutritional therapy, functional neurology, herbalism and aromatherapy, along with multiple continuing educational courses in plant medicine, brain health, Chinese medicine and herbalism.
Jodi has worked closely with healthcare practitioners, including MDs, NDs, nurse practitioners, chiropractors, acupuncturists, health coaches, nutritionists and yoga instructors, to implement the most effective essential oil protocols in clinical practice to support underlying imbalances that often lead to disease, including sleep, stress, digestion, inflammation, detoxification, and blood-sugar imbalances.
She has since curated and compiled these learnings in her books, blog, and classes to educate more than 65,000 practitioners, individuals and families across the nation on best practices for essential oils to balance the body and the brain.
For more information on Jodi's new book, Essential Oils to Boost the Brain & Heal The Body, visit here: https://dv216.isrefer.com/go/bookgift/docposborne/FBL
To connect with Dr. Osborne visit:
Facebook: https://www.facebook.com/DoctorPeterOsborne/
*These statements have not been evaluated by the Food and Drug Administration. This video is not intended to diagnose, treat, cure or prevent any disease. It is strictly intended for educational purposes only. Additionally, this information is not intended to replace the advice of your physician. Dr. Osborne is not a medical doctor. He does not treat or diagnose disease. He offers nutritional support to people seeking an alternative from traditional medicine. Dr. Osborne is licensed with the Pastoral Medical Association.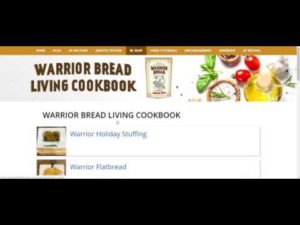 Grab Warrior Bread Here: https://www.glutenfreesociety.org/shop/supplements/warrior-bread-grain-free-bread-mix-presale/ Check out our...