Best supplemental sources of vitamin B12:
Methylcobalamin – https://www.glutenfreesociety.org/shop/supplements/general-health/methylcobalamin-gluten-free-supplement/
Hydroxycobalamin – https://www.glutenfreesociety.org/shop/supplements/digestive-health/ultra-b12/
B Complete – https://www.glutenfreesociety.org/shop/supplements/general-health/b-complete/
While all vitamins are important, Vitamin B12 is crucial to the functioning of your body. This is because it is responsible for rapid DNA and RNA production or replication. Once replicated, these are used to create new cells in the body, which is especially critical in the gut where cells reproduce every two days.
It is also important in allowing the brain and nervous system to function normally. It aids in the formation of red blood cells and plays a part in the metabolism of every cell of the body through energy production and synthesis of fatty acids.
It is primarily found in animal protein, which must be broken down in the stomach for adequate absorption. When someone eats meat or eggs, the hydrochloric acid, or HCL, contained in the stomach separates out the Vitamin B12. Intrinsic factor, also found in the stomach, grabs the vitamin and transports it through the small intestine to the ilium, where it will be absorbed into the body.
To connect with Dr. Osborne visit:
Facebook: https://www.facebook.com/DoctorPeterOsborne/
*These statements have not been evaluated by the Food and Drug Administration. This video is not intended to diagnose, treat, cure or prevent any disease. It is strictly intended for educational purposes only. Additionally, this information is not intended to replace the advice of your physician. Dr. Peter Osborne is one of the most sought after alternative and nutritional experts in the world. A Diplomate with the American Clinical Board of Nutrition, a graduate of Texas Chiropractic College, and a doctor of pastoral science, Dr. Osborne is one of the world's leading authorities on gluten, nutrition, and natural health. He is the founder GlutenFreeSociety.org, one of the world's largest informational sites on gluten sensitivity. In addition, he is the author of the best selling book, No Grain No Pain, published by Touchstone (Simon & Schuster). His work has been featured by PBS, Netflix, Amazon, Fox, and many other nationally recognized outlets. For more information, visit us at https://www.glutenfreesociety.org/ or call 281-903-7527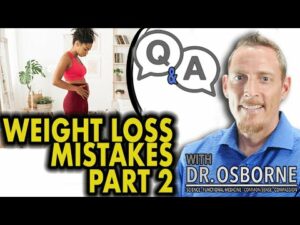 Think you might be gluten sensitive? Take the...