Think you might be gluten sensitive? Take the quiz:
https://www.glutenfreesociety.org/gluten-sensitivity-intolerance-self-test/
If the power goes out, you will want to consider a number of the items listed below. Keep in mind that electronic payments will not be available if there is no power, so you will have to have cash on hand to make any purchases.
Flash Lights
Candles
Fire Starters – Lighter and matches could be very useful.
Gas Grill – Buy a propane powered grill. Make sure you have a couple of reserve propane tanks as well. This will give you the ability to cook if the power goes out.
Extra Propane Canisters
Generator – You can buy portable gas and diesel models for a reasonable price (especially used ones). If you can afford a whole house natural gas generator, buy one. The ability to keep electricity going is definitely a bonus for comfortable survival.
Extra Fuel – Have some reserve gasoline cans in the garage. This could help you run a gas generator or your vehicle should the gas pumps go down
A Deep Freezer – These can be used to store larger quantities of grass fed meats, vegetables, and fruits. As a matter of fact, having a deep freezer full of meat is what saved me and my sons from going hungry after Hurricane Ike. In my experience, frozen foods will last about a week before thawing in a deep freeze. The first week of power outage we were able to cook meat and heat up veggies on our gas grill.
Rechargeable Crank Radio
Walkie Talkies
Solar Charger
Batteries
Games
Consider the benefits of gun and knife ownership. When an emergency occurs, you may need protection from looters. I have witnessed looting first hand. It is not pretty. Owning a gun and knife might also come in handy if the proverbial poo really hits the fan, and you find yourself in need of hunting. Don't forget the ammo.
To connect with Dr. Osborne visit:
Facebook: https://www.facebook.com/DoctorPeterOsborne/
*These statements have not been evaluated by the Food and Drug Administration. This video is not intended to diagnose, treat, cure or prevent any disease. It is strictly intended for educational purposes only. Additionally, this information is not intended to replace the advice of your physician. Dr. Peter Osborne is one of the most sought after alternative and nutritional experts in the world. A Diplomate with the American Clinical Board of Nutrition, a graduate of Texas Chiropractic College, and a doctor of pastoral science, Dr. Osborne is one of the world's leading authorities on gluten, nutrition, and natural health. He is the founder GlutenFreeSociety.org, one of the world's largest informational sites on gluten sensitivity. In addition, he is the author of the best selling book, No Grain No Pain, published by Touchstone (Simon & Schuster). His work has been featured by PBS, Netflix, Amazon, Fox, and many other nationally recognized outlets. For more information, visit us at https://www.glutenfreesociety.org/ or call 281-903-7527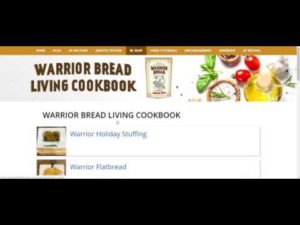 Grab Warrior Bread Here: https://www.glutenfreesociety.org/shop/supplements/warrior-bread-grain-free-bread-mix-presale/ Check out our...