Grains are high carbohydrate foods, which can lead to weight gain and obesity when consumed in excess.
First, when you eat more calories than your body can burn at any given time, the excess energy is stored as fat. And many people frequently eat excess calories from high carbohydrate, grain-based foods, such as pasta, bread, cereal, cookies, crackers, and so on.
Second, eating a high carbohydrate diet can raise your blood sugar and your insulin. Over time, these abnormalities can lead to weight gain, insulin resistance, obesity, and type 2 diabetes.
As I mentioned earlier, weight gain and obesity can put more pressure on your joints and cause more wear and tear than normal. These things can cause pain. And pain can prevent you from exercising, which can cause you to gain more weight and experience more pain.
Studies have found that pain is a common complaint among obese adults, adolescents, and children. For instance, it's been reported that obese patients are 4 times more likely to experience pain than normal-weight individuals.
Similarly, those with pain disorders are commonly overweight or obese. For example, a study found that 60% of female patients with fibromyalgia were overweight and over 30% were obese.
Obesity is also associated with the development and severity of osteoarthritis. And the CDC lists obesity as a risk factor for rheumatoid arthritis.
To connect with Dr. Osborne visit:
Facebook: https://www.facebook.com/DoctorPeterOsborne/
*These statements have not been evaluated by the Food and Drug Administration. This video is not intended to diagnose, treat, cure or prevent any disease. It is strictly intended for educational purposes only. Additionally, this information is not intended to replace the advice of your physician. Dr. Osborne is not a medical doctor. He does not treat or diagnose disease. He offers nutritional support to people seeking an alternative from traditional medicine. Dr. Osborne is licensed with the Pastoral Medical Association.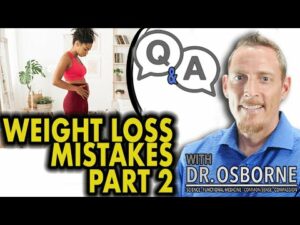 Think you might be gluten sensitive? Take the...