Gluten can cause an array of symptoms that can overlap with the symptoms of vitamin E deficiency. It is important to understand the cross over, because if you have gone gluten free but still struggle with these symptoms, you may have a vitamin E deficiency issue that needs to be addressed. These overlapping symptoms can include muscle pain and weakness, cerebellar ataxia, neuropathy, and anemia.
To connect with Dr. Osborne visit:
Facebook: https://www.facebook.com/DoctorPeterOsborne/
*These statements have not been evaluated by the Food and Drug Administration. This video is not intended to diagnose, treat, cure or prevent any disease. It is strictly intended for educational purposes only. Additionally, this information is not intended to replace the advice of your physician. Dr. Osborne is not a medical doctor. He does not treat or diagnose disease. He offers nutritional support to people seeking an alternative from traditional medicine. Dr. Osborne is licensed with the Pastoral Medical Association.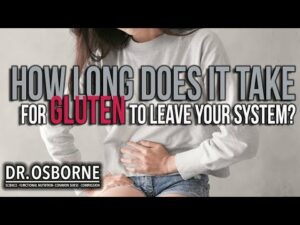 Gluten Shield - specially formulated for those seeking...