Think you might be gluten sensitive? Take the quiz:
https://www.glutenfreesociety.org/gluten-sensitivity-intolerance-self-test/
We know that nutrient deficiencies are common in newly diagnosed celiac patients. And in fact, research suggests that deficiencies and imbalances can exist even after a gluten free diet is implemented, and even if symptoms are not present.
There are a number of these gluten-induced nutritional deficiencies that impact blood sugar or that may contribute to diabetic complications:
Vitamin D: Vitamin D deficiency is common in those with celiac disease and research has shown that high dose vitamin D improves insulin sensitivity and decreases risk of progression toward diabetes in patients with pre-diabetes and hypovitaminosis D.
Chromium: Chromium deficiency is common in celiac disease patients and research has suggested that supplementation to animals that were rendered insulin resistant improves resistance and markers of glucose metabolism. The research concludes that the beneficial effects of chromium may justify its use as an adjunct therapy in the management of insulin resistance and type-2 diabetes.
Magnesium: Magnesium deficiency is common in those with celiac disease and research has shown that oral magnesium supplementation reduces insulin resistance and improves the glycemic control indicators among type 2 diabetes patients.
Zinc: Zinc deficiency is common in those with celiac disease and research has shown that several key glycemic indicators are significantly reduced by zinc supplementation, suggesting that zinc supplementation may have clinical potential as an adjunct therapy for preventing or managing diabetes.
B Vitamins: Deficiency of several B vitamins is common in those with celiac disease as well as type 2 diabetes and research has shown that supplementation has shown improvement of the metabolic control in diabetic patients. In addition, it is important to note that the absorption of folic acid and vitamin B12 is decreased by the prolonged use of metformin, which is the first choice drug in uncomplicated diabetes cases.
CoQ10: Research shows that those with gluten sensitivity and celiac disease have lower antioxidant status. CoQ10, or ubiquinone, is an antioxidant which is found in every cell in the body, and is necessary for use in cellular energy production. CoQ10 has been studied with respect to its role in blood sugar management for decades and research has shown that CoQ10 treatment can improve glycemic control, total and LDL cholesterol.
Multi-Vitamin/Mineral: We know that a number of nutrient deficiencies are common in those with celiac disease. While targeted supplementation is helpful, so is broad supplementation with a multivitamin. In fact, research showed that a multivitamin and mineral supplement reduced the incidence of participant-reported infection and related absenteeism in a sample of participants with type 2 diabetes mellitus and a high prevalence of subclinical micronutrient deficiency. Incredibly, 93% of participants who did not receive a supplement reported an infection compared with 17% of those receiving supplements.
To connect with Dr. Osborne visit:
Facebook: https://www.facebook.com/DoctorPeterOsborne/
*These statements have not been evaluated by the Food and Drug Administration. This video is not intended to diagnose, treat, cure or prevent any disease. It is strictly intended for educational purposes only. Additionally, this information is not intended to replace the advice of your physician. Dr. Peter Osborne is one of the most sought after alternative and nutritional experts in the world. A Diplomate with the American Clinical Board of Nutrition, a graduate of Texas Chiropractic College, and a doctor of pastoral science, Dr. Osborne is one of the world's leading authorities on gluten, nutrition, and natural health. He is the founder GlutenFreeSociety.org, one of the world's largest informational sites on gluten sensitivity. In addition, he is the author of the best selling book, No Grain No Pain, published by Touchstone (Simon & Schuster). His work has been featured by PBS, Netflix, Amazon, Fox, and many other nationally recognized outlets. For more information, visit us at https://www.glutenfreesociety.org/ or call 281-903-7527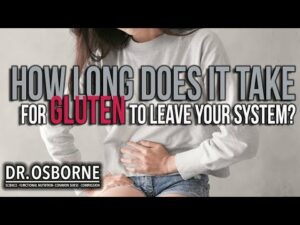 Gluten Shield - specially formulated for those seeking...