Think you might be gluten sensitive? Take the quiz:
https://www.glutenfreesociety.org/gluten-sensitivity-intolerance-self-test/
00:00 – Grains banned in the 40's
00:30 – can bariatric surgery cause dementia?
00:45 – Gluten sensitivity is not a disease, it's a state of genetics
01:17 – how do you balance omega 6 to omega 3?
02:30 – what replaces the gluten once you cut it out?
03:00 – can gluten exposure cause a slow heartbeat?
03:51 – switching to chickpea based pastas?
04:24 – can we eat amaranth leaves?
05:00 – thoughts on Alzheimer's drugs?
05:40 – is it true that bone broth has gluten in it?
06:10 – diet sodas a factor in Alzheimer's?
06:55 – doctor's not willing to listen
07:44 – once gluten free how long does it take vitamins and minerals to regulate?
08:30 – what role does MTHFR play in this?
09:30 – how much B1 would someone use as a daily preventative?
10:00 – are liquid vitamins easier to absorb than standard tablets?
10:47 – what do you suggest for vegans or vegetarians instead of fish?
12:14 – what additional tests or levels should we check for dementia?
13:14 – my father has sarcopenia, is there a relation to dementia?
14:12 – what do you take to cleanse toxins in your body?
15:12 – can someone get a gluten sensitivity diagnosis and then get "prescribed" a diet?
16:27 – does monk fruit always contain other additives?
16:58 – Vitamin K and blood thinners?
17:25 – should magnesium be taken with B1?
18:28 – are there special places where they do intracellular nutrition measurements?
19:19 – is Alzheimer's genetic?
20:25 – can untreated psychosis lead to dementia?
21:00 – do we need to be sure that gluten free is listed on the label?
21:49 – could mold cause dementia?
22:24 – 8 weeks out for a knee replacement, can I start caprylic acid?
23:15 – does Parkinson's lead to dementia?
23:35 – is there a way to eliminate mild dementia completely?
24:17 – will K2 help with plaque formation?
24:35 – will lack of sleep cause dementia?
25:33 – blood tests to check blood thinnners?
26:15 – can ketones help with dementia?
To connect with Dr. Osborne visit:
Facebook: https://www.facebook.com/DoctorPeterOsborne/
*These statements have not been evaluated by the Food and Drug Administration. This video is not intended to diagnose, treat, cure or prevent any disease. It is strictly intended for educational purposes only. Additionally, this information is not intended to replace the advice of your physician. Dr. Peter Osborne is one of the most sought after alternative and nutritional experts in the world. A Diplomate with the American Clinical Board of Nutrition, a graduate of Texas Chiropractic College, and a doctor of pastoral science, Dr. Osborne is one of the world's leading authorities on gluten, nutrition, and natural health. He is the founder GlutenFreeSociety.org, one of the world's largest informational sites on gluten sensitivity. In addition, he is the author of the best selling book, No Grain No Pain, published by Touchstone (Simon & Schuster). His work has been featured by PBS, Netflix, Amazon, Fox, and many other nationally recognized outlets. For more information, visit us at https://www.glutenfreesociety.org/ or call 281-903-7527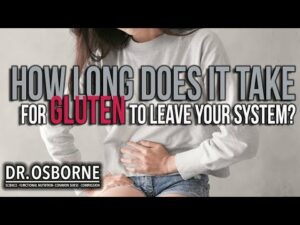 Gluten Shield - specially formulated for those seeking...