Think you might be gluten sensitive? Take the quiz:
https://www.glutenfreesociety.org/gluten-sensitivity-intolerance-self-test/
If you suffer with dementia or if you suspect Leaky Brain Syndrome, the most important thing you can do is to be tested for gluten sensitivity and other food allergies. I would also highly recommend having your doctor measure your gut bacteria for the presence of gram negative bacteria, as these are the types that have been found to be the most problematic. If they are present, you will definitely want to consider taking high doses (200 billion CFU/day or more) of probiotics for at least 2 months. Also consider having your doctor check your vitamin and mineral status as these are essential to the healing process. From a food perspective, you will want to consume whole unprocessed foods. I would recommend avoiding all grain, processed dairy, processed sugar, legumes, alcohol, and large quantities of seeds. Bone broth is an excellent source of nutrient dense food helpful in gut recovery.
To connect with Dr. Osborne visit:
Facebook: https://www.facebook.com/DoctorPeterOsborne/
*These statements have not been evaluated by the Food and Drug Administration. This video is not intended to diagnose, treat, cure or prevent any disease. It is strictly intended for educational purposes only. Additionally, this information is not intended to replace the advice of your physician. Dr. Peter Osborne is one of the most sought after alternative and nutritional experts in the world. A Diplomate with the American Clinical Board of Nutrition, a graduate of Texas Chiropractic College, and a doctor of pastoral science, Dr. Osborne is one of the world's leading authorities on gluten, nutrition, and natural health. He is the founder GlutenFreeSociety.org, one of the world's largest informational sites on gluten sensitivity. In addition, he is the author of the best selling book, No Grain No Pain, published by Touchstone (Simon & Schuster). His work has been featured by PBS, Netflix, Amazon, Fox, and many other nationally recognized outlets. For more information, visit us at https://www.glutenfreesociety.org/ or call 281-903-7527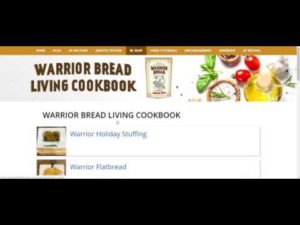 Grab Warrior Bread Here: https://www.glutenfreesociety.org/shop/supplements/warrior-bread-grain-free-bread-mix-presale/ Check out our...