Think you might be gluten sensitive? Take the quiz:
https://www.glutenfreesociety.org/gluten-sensitivity-intolerance-self-test/
One of the top questions I get is: "Dr. Osborne, what kind of supplements work well?" If we're talking about chronic pain, we really want to talk about chronic pain that that might be inflammatory in nature. What i've done is I've classified for you some of the top hacks – some of the best things that you can do that actually work.
Where a lot of people make mistakes is that the quality of the supplement they buy is junk. They go over to your basic drug store and they buy the junkiest cheapest thing they can find that's full of fillers and many of those fillers are have grain in them and corn and they're genetically modified and they have pesticide residues. that stuff isn't going to get you any better it's not going to get you ahead. In order for these things to be effective you've got to do them meaningfully.
Supplements mentioned in this video:
Vitamin C – http://glutenfreesociety.org/DetoxCPowder
Vitamin D – http://glutenfreesociety.org/VitaminDBundle
Quercetin – http://glutenfreesociety.org/UltraQuercetin
Omega 3 – http://glutenfreesociety.org/OmegaMax
Turmeric – https://www.glutenfreesociety.org/shop/supplements/immune-support/ultra-turmeric/
Magnesium – http://glutenfreesociety.org/UltraMg
To connect with Dr. Osborne visit:
Facebook: https://www.facebook.com/DoctorPeterOsborne/
*These statements have not been evaluated by the Food and Drug Administration. This video is not intended to diagnose, treat, cure or prevent any disease. It is strictly intended for educational purposes only. Additionally, this information is not intended to replace the advice of your physician. Dr. Peter Osborne is one of the most sought after alternative and nutritional experts in the world. A Diplomate with the American Clinical Board of Nutrition, a graduate of Texas Chiropractic College, and a doctor of pastoral science, Dr. Osborne is one of the world's leading authorities on gluten, nutrition, and natural health. He is the founder GlutenFreeSociety.org, one of the world's largest informational sites on gluten sensitivity. In addition, he is the author of the best selling book, No Grain No Pain, published by Touchstone (Simon & Schuster). His work has been featured by PBS, Netflix, Amazon, Fox, and many other nationally recognized outlets. For more information, visit us at https://www.glutenfreesociety.org/ or call 281-903-7527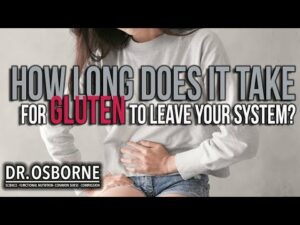 Gluten Shield - specially formulated for those seeking...