Think you might be gluten sensitive? Take the quiz:
https://www.glutenfreesociety.org/gluten-sensitivity-intolerance-self-test/
Hist Assist – http://glutenfreesociety.org/HistAssist
Some histamine is essential for normal body functions, but too much can cause problems. Therefore, the body must balance the production and intake of histamine with the elimination of histamine. If this process is hindered, histamine builds up, and symptoms of histamine intolerance occur.
In the human body, the primary pathway for the natural degradation or elimination of histamine is an enzyme called diamine oxidase (DAO or histaminase). When this elimination process is disrupted, an imbalance, or intolerance can occur.
Because histamine symptoms occur when levels are too high, the causes of histamine intolerance are related to either consuming too many high histamine foods, taking medications that interfere with the breakdown of histamines, or the inability of the body to clear histamine properly. The following is a list of some of the more common causes:
Food: Histamine-rich foods can cause histamine to build up in the body. In addition, other foods can either release histamine in the body or inhibit DAO production.
Bacterial imbalance: Bacterial overgrowth can influence digestion and cause histamine overproduction.
GI inflammation: Inflammatory gastrointestinal disorders like leaky gut, celiac disease, and other inflammatory bowel diseases can influence the ability of the body to eliminate histamine.
Nutritional deficits: Deficiencies of copper, vitamin C, and pyridoxine (vitamin B6) are associated with decreased activity of DAO.
Medications: The development of an intolerance is also facilitated by substances and drugs that affect the metabolism of histamine by reducing DAO activity. Such drugs include verapamil (for high blood pressure), clavulanic acid (typically found combined with common antibiotics like amoxicillin to fight antibiotic resistance), chloroquine derivatives (for immunosuppression and antiparasitic needs), acetylcysteine (to help thin and loosen mucus in the airways due to certain lung diseases), amitriptyline (antidepressant), metamizole (anti-inflammatory and pain killer), and isoniazid (antibiotic).
Menstruation: Some research has shown that DAO levels are lower during the female menstrual cycle. This reduction may be linked to headache symptoms in women during their period.
To connect with Dr. Osborne visit:
Facebook: https://www.facebook.com/DoctorPeterOsborne/
*These statements have not been evaluated by the Food and Drug Administration. This video is not intended to diagnose, treat, cure or prevent any disease. It is strictly intended for educational purposes only. Additionally, this information is not intended to replace the advice of your physician. Dr. Peter Osborne is one of the most sought after alternative and nutritional experts in the world. A Diplomate with the American Clinical Board of Nutrition, a graduate of Texas Chiropractic College, and a doctor of pastoral science, Dr. Osborne is one of the world's leading authorities on gluten, nutrition, and natural health. He is the founder GlutenFreeSociety.org, one of the world's largest informational sites on gluten sensitivity. In addition, he is the author of the best selling book, No Grain No Pain, published by Touchstone (Simon & Schuster). His work has been featured by PBS, Netflix, Amazon, Fox, and many other nationally recognized outlets. For more information, visit us at https://www.glutenfreesociety.org/ or call 281-903-7527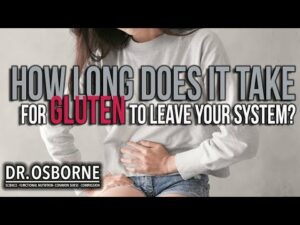 Gluten Shield - specially formulated for those seeking...