Think you might be gluten sensitive? Take the quiz:
https://www.glutenfreesociety.org/gluten-sensitivity-intolerance-self-test/
Best supplemental sources of vitamin B12:
Methylcobalamin – https://www.glutenfreesociety.org/shop/supplements/general-health/methylcobalamin-gluten-free-supplement/
Hydroxycobalamin – https://www.glutenfreesociety.org/shop/supplements/digestive-health/ultra-b12/
B Complete – https://www.glutenfreesociety.org/shop/supplements/general-health/b-complete/
00:00 – if you are celiac and diabetic, how long does it take to turn things around if you are now eating clean?
00:45 – is there a correlation between gluten and tinnitus?
01:30 – can vitamin B12 help my nerves and breathing problems?
02:12 – yeast as a B vitamin support? Medicinal mushcrooms?
03:00 – organic dry nuts and fruits?
03:27 – is whey intolerance like gluten intolerance?
03:36 – my B12 is constantly high on my labs. Is it because of SIBO?
05:10 – can you reverse a neuropathy if you correct a B12 deficiency?
05:45 – optimal level for homocysteine?
06:18 – Chemotherapy damage
07:45 – does celiac disease cause sleep apnea?
08:00 – pelvic organ prolapse after weight loss?
08:47 – why does metformin cause B12 depletion?
11:55 – can B12 levels be too high or is there a potential toxicity?
13:02 – if someone has nerve damage caused by diabetes, what could help the nerve damage?
14:00 – can B12 cause sleep apnea?
14:59 – can appendectomy cause a B12 deficiency?
15:45 – do you have a hydroxycobalamine product?
16:30 – is it rare to get seizures from B12 deficiency?
17:23 – can low sodium cause cramping?
18:11- I wake up with both hands numb and have severe cramping when going upstairs.
19:04 – are B12 shots safe?
19:26 – when will you have your own food sensitivity test?
19:59 – is high B12 a sign of SIBO?
20:20 – Will the body get rid of excess B12?
20:55 – glutamine deficiencies?
22:00 – Why is B12 causing my ferritin levels to raise?
22:40 – can B12 deficiency cause chronic fatigue?
23:30 – C reactive protein connections?
24:30 – can Guillain–Barré syndrome be addresses with supplementation?
25:15 – is it better to take a B complex rather than one in particular?
26:58 – is there a risk of B12 deficiency in Lyme disease patients?
28:00 – Can B vitamins help with side affects of the jab?
28:30 – gluten free diet and Barrett's esophagitis?
To connect with Dr. Osborne visit:
Facebook: https://www.facebook.com/DoctorPeterOsborne/
*These statements have not been evaluated by the Food and Drug Administration. This video is not intended to diagnose, treat, cure or prevent any disease. It is strictly intended for educational purposes only. Additionally, this information is not intended to replace the advice of your physician. Dr. Peter Osborne is one of the most sought after alternative and nutritional experts in the world. A Diplomate with the American Clinical Board of Nutrition, a graduate of Texas Chiropractic College, and a doctor of pastoral science, Dr. Osborne is one of the world's leading authorities on gluten, nutrition, and natural health. He is the founder GlutenFreeSociety.org, one of the world's largest informational sites on gluten sensitivity. In addition, he is the author of the best selling book, No Grain No Pain, published by Touchstone (Simon & Schuster). His work has been featured by PBS, Netflix, Amazon, Fox, and many other nationally recognized outlets. For more information, visit us at https://www.glutenfreesociety.org/ or call 281-903-7527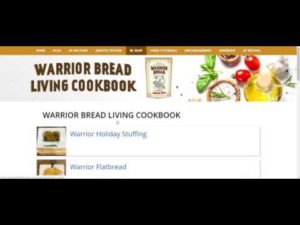 Grab Warrior Bread Here: https://www.glutenfreesociety.org/shop/supplements/warrior-bread-grain-free-bread-mix-presale/ Check out our...