Think you might be gluten sensitive? Take the quiz:
https://www.glutenfreesociety.org/gluten-sensitivity-intolerance-self-test/
The 2020 National Diabetes Statistics Report shared that 26.9 million people of all ages, or 8.2% of the US population, had diagnosed diabetes. In addition, the report shared that 1.5 million new cases of diabetes—or 6.9 per 1,000 persons—were diagnosed in 2018.
Research has definitely made several links between gluten and diabetes, but before we dive into the connection, let's define diabetes. Diabetes is a chronic health condition that affects how the body turns food into energy.
In simplified terms, carbohydrate-containing food that we eat gets broken down into sugar (or glucose) by the body and released into your bloodstream. When your blood sugar rises, it signals your pancreas to release insulin. Insulin helps to get the sugar from the blood into your body's cells to be used as energy.
In a healthy person with properly-functioning insulin, this process works efficiently. However, if a person has diabetes, the body either doesn't make enough insulin or can't use the insulin it makes as well as it should. When there isn't enough insulin, or if our cells stop responding to insulin, the amount of sugar rises in your bloodstream.
So how might gluten influence this process of food intake, blood sugar, and insulin function? We'll discuss that in this video.
To connect with Dr. Osborne visit:
Facebook: https://www.facebook.com/DoctorPeterOsborne/
*These statements have not been evaluated by the Food and Drug Administration. This video is not intended to diagnose, treat, cure or prevent any disease. It is strictly intended for educational purposes only. Additionally, this information is not intended to replace the advice of your physician. Dr. Peter Osborne is one of the most sought after alternative and nutritional experts in the world. A Diplomate with the American Clinical Board of Nutrition, a graduate of Texas Chiropractic College, and a doctor of pastoral science, Dr. Osborne is one of the world's leading authorities on gluten, nutrition, and natural health. He is the founder GlutenFreeSociety.org, one of the world's largest informational sites on gluten sensitivity. In addition, he is the author of the best selling book, No Grain No Pain, published by Touchstone (Simon & Schuster). His work has been featured by PBS, Netflix, Amazon, Fox, and many other nationally recognized outlets. For more information, visit us at https://www.glutenfreesociety.org/ or call 281-903-7527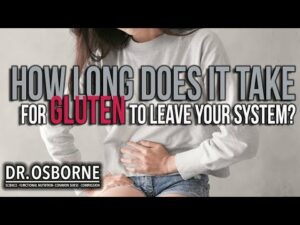 Gluten Shield - specially formulated for those seeking...