Description
Gluten Free D supplies a concentrated source of Vitamin D in an emulsified form. For those struggling with celiac or gluten sensitivity, the gut does not always absorb vitamins effectively. Emulsification is used to assist with uptake and assimilation. Gluten Free D is an oil-in-water emulsion. Vitamin D oil has been dispersed into microscopic particles to aid absorption and assimilation. It may be used in cases of vitamin D need. Each drop supplies 2,000 IU of vitamin D.
This product is gluten free, dairy free, grain free, non GMO, and nothing artificial. Made in the USA.
Suggested Dose: One (1) drop each day as a dietary supplement, or as recommended by your healthcare practitioner.
One of the Most Common Nutritional Deficiencies in the U.S., Vitamin D Deficiency Can Reduce Your Immune Function, Cause Muscle Pain, Heart Disease, Cancer, & More
For those with gluten issues, vitamin D deficiency can exacerbate and contribute to the development of autoimmune diseases. Unlike other vitamins, the majority of Vitamin D is not acquired from eating adequate food. Most of our vitamin D comes directly from sunshine. The prevalence of vitamin D deficiency in the US is largely a result of the following:
people working indoors
avoiding sunshine out of fear of skin cancer
living in northern climates (see map)
overuse of sunscreen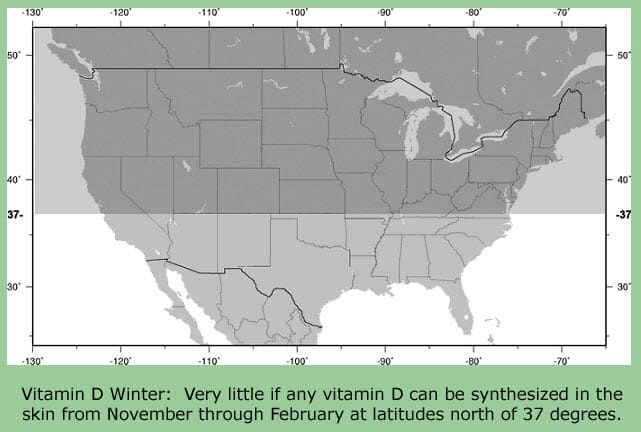 Those at risk for vitamin D deficiency include:
The elderly
Those who live in northern latitudes (see map)
Dark skinned individuals
Those who avoid sun exposure
Those who use sunscreen (SPF >8 inhibits vitamin D synthesis by the skin. This includes the use of cosmetics and lotions that contain SPF ingredients)
Those who work indoors
Individuals who wear long clothing such as robes or head protection
Breast fed infants whose mothers are vitamin D deficient
People who are obese
Those who have had gastric bypass and gall bladder surgery
Those with inflammatory bowel diseases
Those with celiac disease and gluten intolerance
Those who take cholesterol medications
Those who take steroid medications
Chronic antibiotic use
What are the Symptoms of Vitamin D Deficiency?
Muscle pain
Muscle weakness
Poor immune function (susceptibility to infection)
Eczema (skin rash)
Acne
Chronic infections (sinus)
Poor growth in children
Bowing of the legs (in children – AKA rickets)
Additionally, vitamin D helps regulate a number of vital body functions. Deficiency has been linked to bone loss, muscle atrophy, autoimmune disease, multiple forms of cancer, and cardiovascular disease. The diagram below illustrates many of these functions.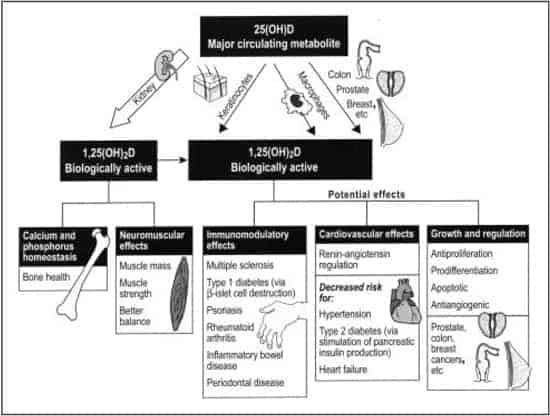 From: Holick, Michael. Am J Clin Nutr 2004;79:362–71.
Are you at risk?
New research on vitamin D shows that the average person needs between 2,000 and 6,000 IU of vitamin D per day! Many nutritionist recommend large amounts of dairy as a source of vitamin D. Unfortunately, trying to get your vitamin D by eating dairy is the equivalent of trying to spit out a forest fire! Protect yourself by getting adequate sunshine daily. Have your doctor measure your 25 OH D levels (vitamin D blood test) to assess you for deficiency.