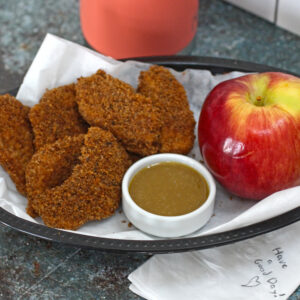 Ingredients
2

cups

Warrior Breadcrumbs

(see notes for link to recipe)

1

tablespoon

Italian herb seasoning

1

tablespoon

onion powder

1

teaspoon

Garlic powder

1

teaspoon

celery salt

1

teaspoon

smoked paprika

1/4

cup

olive oil

2

pounds

Chicken Breast

2

Eggs
Instructions
Preheat the oven to 425. Line 2 large baking sheets with parchment paper.

In a large bowl, mix the breadcrumbs, italian herbs, onion powder, garlic powder, celery salt, and smoked paprika. Stir in the olive oil and mix well to prevent clumps.

Cut the chicken into nugget sized pieces.

Whisk the eggs and pour over the chicken. Toss to combine and season with salt and pepper. One by one, remove a piece of chicken from the egg and toss it in the breadcrumb mixture. Press the chicken in your hand to make sure the breadcrumbs adhere. Place the nugget on the baking sheet and repeat until you use all the chicken, spacing the nuggets about an inch apart on the baking sheets.

Bake for about 7 minutes, then flip, and bake another 7 minutes until cooked though.

Remove from heat and serve with your favorite dipping sauce.