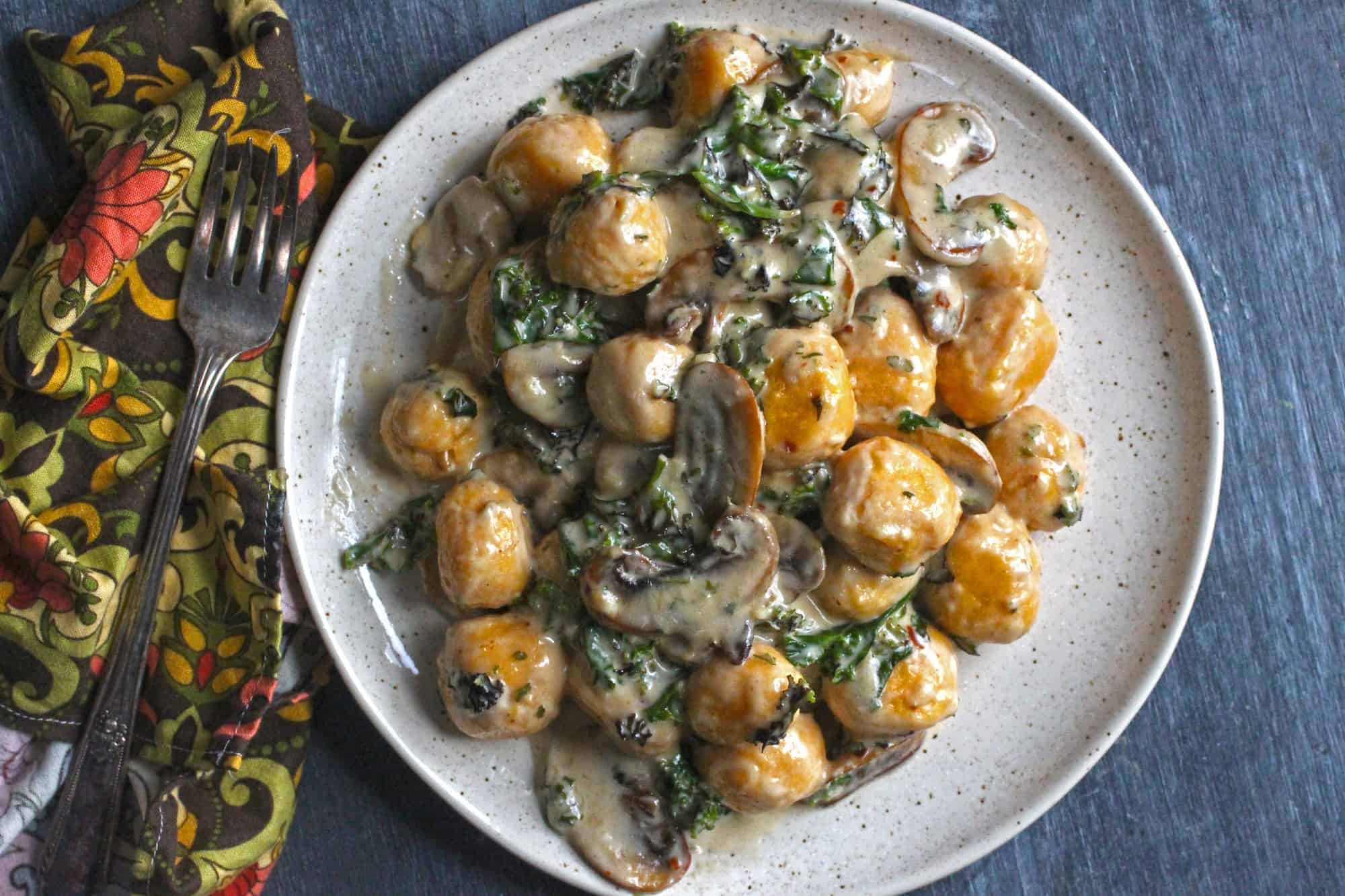 Ingredients
4

large

sweet potatoes

1

cup

almond flour

1/2

cup

potato starch

1

Egg

2

cups

sliced mushrooms

1

cup

chopped kale

1

clove

garlic (minced)

1

cup

coconut milk, from a can

1

teaspoon

oregano

1

teaspoon

crushed red pepper flakes
Instructions
Preheat oven to 350 F

Clean the sweet potatoes and pierce in a few places with a fork. Put on a baking sheet and toss with salt and olive oil. Roast in the oven at 350 for 45 minutes to an hour until tender to the touch. Remove from the oven.

Peel the potatoes and run them through a ricer or food mill, or just mash them lightly with a fork. You should end up with about 3 loose cups of potato.

In a large bowl mix the potatoes with the egg, almond flour, and potato starch. Mix until combined. Add more of the flour and starch if needed.

Use some starch to coat your hands and one by one roll about a tablespoon of the potato mixture into a ball. Place on a surface and repeat until you use all the potato.

Bring salted water to a boil and heat a large frying pan with oil.

Cook the mushrooms on high in the frying pan to brown on both sides. Add the kale and cook 2 minutes until wilted. Add the garlic and cook 1 minute. Add the coconut milk and turn the heat to low.

Drop the gnocchi in the water and cook about 3-5 minutes, about 1 minute after they start floating.

Remove from the water and place directly into the pan with the sauce and mushrooms. Gently stir.

Add in the oregano and pepper flakes and stir to combine. Simmer for 2 minutes before serving. Enjoy!
Video