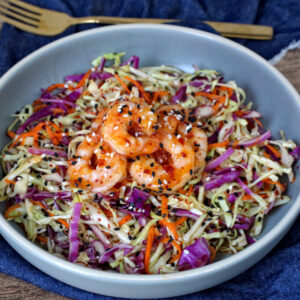 Ingredients
2

cups

shredded green cabbage

1

cup

shredded purple cabbage

1

cup

shredded carrot

1/4

cup

coconut aminos

1/4

cup

sesame oil

2

tbsp

organic Sambal chili paste (gluten free)

2

tbsp

apple cider vinegar

1/4

cup

honey

2

tbsp

grated ginger

1

tbsp

grated garlic

20

shrimp, deveined and shells and tails removed

chili flake and sesame seed for garnish
Instructions
In a large bowl, mix the cabbages and carrot.

In a measuring cup, mix the aminos, sesame oil, sambal chili paste, vinegar, honey, garlic, and ginger.

Stir about 1/4 of the liquid mixture over the veggies and stir to combine. Add a little more if it seems dry.

Preheat a frying pan to high heat. Add in the remaining liquid mixture and the shrimp. Cook about 3 minutes, tossing, until the shrimp are cooked though. The shrimp should tighten into a "c" shape, but if they tighten too much, into an "o" shape, they are overcooked.

Divide the slaw onto 2 plates, and add the shrimp on top. Drizzle with some of the extra sauce in the pan. Top with sesame seeds and chili flakes and serve.