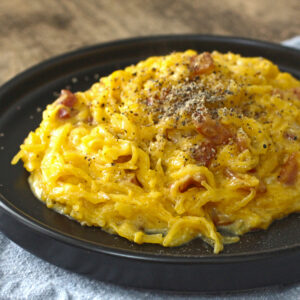 Ingredients
1

large

spaghetti squash, sliced into 1 inch rings

4

slices

bacon, diced

5

egg

yolks

1/4

cup

plant based sour cream

2

tbsp

freshly cracked black pepper

1

clove

garlic, minced

sea salt

olive oil
Instructions
Brush the squash rings with oil and salt and lay out evenly on two large baking sheets. Bake at 400 until tender and lightly browned.

Use a fork to separate the strands of squash from the peel and place them all on a large plate until ready to use.

Add the bacon to a large frying pan over medium heat and cook to render the fat and crisp the bacon. about 10 minutes.

Meanwhile, whisk together the yolks, sour cream, yeast, minced garlic, and half of the black pepper.

You should have a lot of bacon fat in the pan, but if you feel like it is too much, you can strain some of the fat. It should be between 2 and 4 tablespoons in the pan.

Add the squash to the pan with the bacon and bacon fat. Toss to combine and cook about 3 minutes.

Remove from heat and stir in the egg yolk mixture. Stir well in the hot pan to allow the eggs to cook slightly but not curdle and form a luscious sauce on the squash.

Serve and top with the additional black pepper and sea salt to taste.