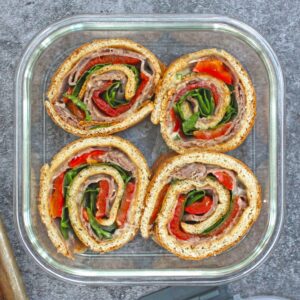 Ingredients
1

packed

cup Warrior Bread mix

2

egg

Whites

1

cup

Water

1

tablespoon

Apple Cider Vinegar

1/2

cup

Mayo

1/4

cup

mustard

1/4

cup

honey

1/2

pound

sliced roast beef

2

large

roasted red peppers (from a jar or roasted at home)q

1

cup

baby spinach
Instructions
Preheat oven to 425 F. Line a baking sheet with parchment paper. (two 1/4 sheets, or one 1/2 sheet)

Beat the egg with the water and vinegar, and pour it into a bowl with the warrior bread mix. Stir well to combine.

Split the dough into 2 balls if using 1/4 sheets, or leave it whole for a 1/2 sheet.

Place one of the balls on a piece of parchment. Top with another parchment and press the dough thin with your hands. Use another sheet pan the same size to press it thinner and have the dough extend over the entire pan. Remove the top pan and top parchment. (repeat with the second dough ball if needed)

Bake for 20 minutes. Remove from oven and set aside.

Mix the mayo, mustard, and honey in a small bowl. Spread it evenly over the flatbread

Top with the roast beef, then the red peppers, then the spinach. Roll the mixture up tightly (if using 1/4 sheets, start rolling from the shorter end, if using 1/2 sheets, start rolling from the long end)

Slice into 1 and 1/2 inch rounds. Serve or pack into lunch portions and store in the fridge until ready to eat.