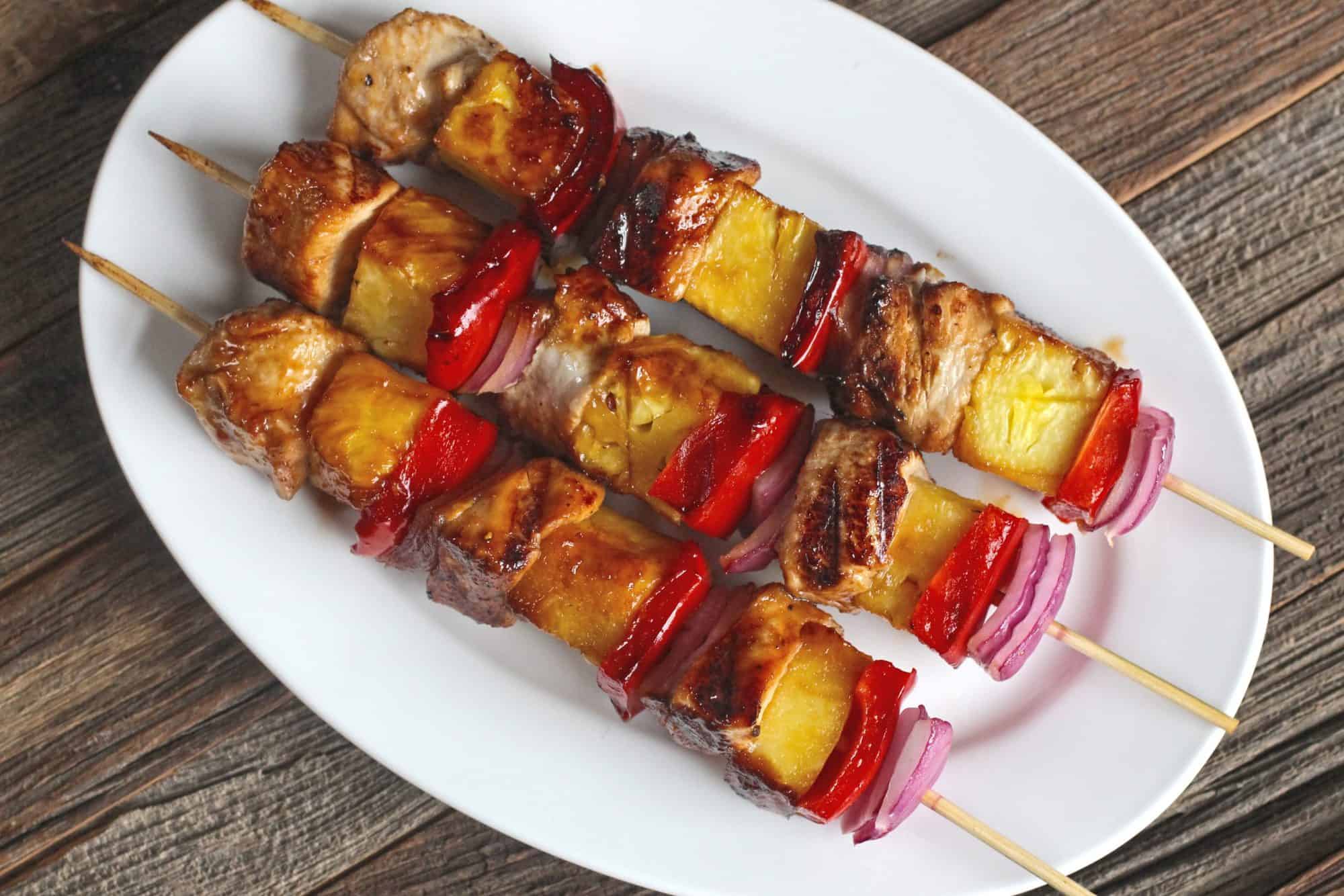 Ingredients
MARINADE INGREDIENTS:

1/4

cup

pineapple juice

3

tablespoons

coconut aminos

3

tablespoons

raw honey

2

tablespoons

coconut water vinegar

1/2

teapoons

fresh ginger, peeled and finely grated

1/2

teaspoons

Garlic powder

2

tablespoons

extra virgin olive oil

.

SAUCE:

1/2

cup

pineapple juice

2

tablespoons

raw honey

1

tablespoon

extra virgin olive oil

1

tablespoon

coconut aminos

1

pound

boneless, skinless chicken breast, cut into 1-inch cubes

1

red

onion, cut in 1-inch pieces

2

red

bell peppers, seeded, stemmed, and cut into 1-inch squares (optional)

1

pineapple, skin removed, cored, and cut into 1-inch cubes

8

wooden

skewers
Instructions
Make the marinade: Mix the pinneapple juice, coconut aminos, raw honey, coconut water vinegar, ginger, garlic powder, and olive oil in a glass bowl. Add the chicken cubes. Cover and refrigerate for 6 to 8 hours.

Soak the wooden skewers in water for 20 minutes.

Heat the grill to medium and oil the grate.

Meanwhile, make the sauce: In a small saucepan, combine the pineapple juice, raw honey, olive oil, and coconut aminos. Bring to a boil, then reduce heat to a simmer. Simmer for 8 to 10 minutes.

Remove chicken from the marinade and discard the marinade.

Alternate pieces of bell pepper, onion, and pineapple with the chicken cubes on the skewers. Cook the kabobs, turning and brushing with the sauce often. Grill for 15 to 20 minutes or until the chicken is cooked through.
Notes
This recipe is from Dr. Peter Osborne's No Grain, No Pain.
For Phase 2, eliminate the red peppers.
Do not use the marinade as a sauce.
The kabobs can be broiled in the oven instead of grilling.
Variation: Use cubed lean pork instead of chicken.