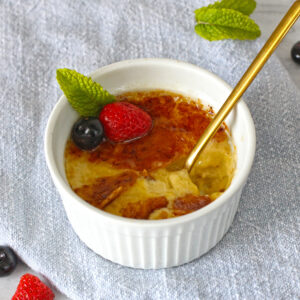 Ingredients
2

14 oz cans

coconut cream

5

egg

yolks

1/4

cup

monk fruit sugar

1

tbsp

vanilla extract

pinch of salt

Monk fruit sugar

coconut sugar

fresh fruit
Instructions
Place your ramekins into a large baking dish, and add warm water to the dish to cover about halfway up the ramekins.

Add the solids from the cans of coconut milk into a pint liquid measuring cup. Add enough of the liquid from the cans to bring this mixture to exactly 2 cups. Pour it into a small pot and bring to a simmer, discarding any remaining liquids from the can.

Meanwhile, whisk together the monk fruit sugar and egg yolks in a bowl. Slowly drizzle the coconut cream into the egg yolk mixture to combine. Whisk in the vanilla.

Pour the cream mixture into the ramekins evenly and put the baking dish into the oven. Bake for 25 minutes or until the mixture only jiggles slightly when the pan is tapped.

Remove from the oven and allow the ramekins to cool for 1 hour in the water bath on the counter

Remove the ramekins and wrap in plastic. Allow to cool fully in the fridge, at least 1 hour. These will keep in the fridge for a few days.

When ready to serve, sprinkle a thin layer of coconut sugar first, then a thin layer of monk fruit sugar. Use a torch to burn the sugar on top. After you finish, there may be a thin layer of liquid on top of the crunchy sugar, you can easily dump this out into the sink after it cools slightly.

The monk fruit sugar is there because it gets nicely firm, and the coconut sugar is there because it adds the classic burnt color.