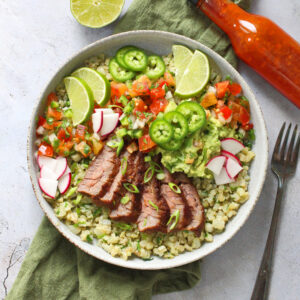 Ingredients
MEAT AND MARINADE

1.5

pounds

skirt steak

1/4

cup

olive oil

1

tsp

salt

1

tbsp

apple cider vinegar

2

tbsp

coconut aminos

1

tsp

cumin

1

tsp

chili powder

2

scallions, diced

3

cloves

garlic, minced

CAULIFLOWER RICE

2

tbsp

olive oil

4

cups

riced cauliflower

1

scallion, diced

3

sprigs

of cilantro, chopped

BOWL

Pico de gallo

Guacamole

Sliced jalapenos

Sliced radish

Vegan sour cream

Limes

Hot Sauce

Scallions

Cilantro
Instructions
Put the skirt steak in a bowl or zip top bag with all the marinade ingredients. Stir and combine. Place in the fridge for at least 2 hours, or as long as 2 days.

Preheat a grill, grill pan, cast iron skillet, or heavy bottom frying pan to high heat. Add the skirt steak and cook about 5 minutes per side, to reach desired doneness.

Place the meat on a large cutting board and allow to rest for about 10 minutes. Cut thin slices against the grain.

For the cauliflower rice, preheat a nonstick frying pan over high heat and add the olive oil. When you can see the oil shimmering in the pan, add in the cauliflower and cook, stirring often, for about 5 minutes to soften.

Add in the scallion and cilantro and cook another 2 minutes.

Build the bowls starting with the cauliflower. Top with the steak and your desired toppings.