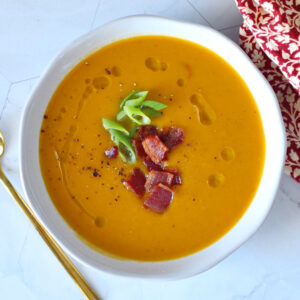 Ingredients
2

tbsp

olive oil

4

strips

of bacon, diced

1

small

onion, diced

3

cloves

garlic, sliced thin

1

medium

butternut squash, peeled and diced

1

quart

veggie stock

1

can

coconut milk

1

tsp

cinnamon

1/2

tsp

cumin

1/2

tsp

smoked paprika

salt and pepper

scallion and olive oil for garnish
Instructions
 Preheat a large heavy bottom pot over medium high heat with a little olive oil. Add in the bacon and cook, stirring often, until cooked and crispy. Remove from pan and allow to cool on a paper towel, leaving the bacon fat in the pan. You can remove a little of the fat if it feels like too much, but you want at least a few tablespoons of fat in the pan.

Add in the onions and cook about 5 minutes to soften. Season with salt and pepper.

Add in the garlic and cook 2 minutes.

Add in the squash, stock, coconut milk, cinnamon, cumin, and paprika. Season with salt and pepper.

Cover and bring to a simmer. Cook about 30-45 minutes until the squash is soft.

In the same pot, use a hand held blender to blend the soup to a thin smooth consistency. Alternatively you could do this in a regular blender in batches, just be careful when blending hot soup, it has the tendency to explode from the blender.

Serve and top with the crumbled bacon, a drizzle of olive oil, and sliced scallions.