Website: https://drpeterosborne.com/
Viewer Mary Ellen writes in with this question: "I would like to know what test to have to determine a diagnosis of Hashimoto's Disease."
This is a great question. What most doctors will do when trying to identify Hashimoto's is they're going to run two different types of tests for measuring thyroid antibodies. One of them is called an antithyroglobulin antibody and the other one is called a thyroperoxidase antibody, oftentimes abbreviated as TPO. Those two types of antibodies are very very common and help a doctor to assess whether or not you have Hashimoto's.
Beyond that there's some other tests that many doctors will do because sometimes antibody tests come back false negatives. So sometimes a doctor might want to run an ultrasound of your thyroid to look for nodules or other signs of inflammation in the thyroid itself.
And then there's some other blood work that most doctors are going to run as well. The TSH stands for thyroid stimulating hormone. Typically with Hashimoto's Disease TSH levels are high, somewhere above five. Additionally, running T-3, T-4 and something called reverse T-3 are all recommended to get a more accurate, more complete picture of what a person's thyroid is doing.
So if you're having that conversation with your doc, ask for TSH, T-3, T-4, reverse T-3, ask for a thyroid peroxidase and ask for an antithyroglobulin antibody test and those things will greatly help your doctor be able to piece together whether or not you have Hashimoto's.
If you've got questions that you'd like me to get answered, make sure you email us at glutenology@gmail.com.
To connect with Dr. Osborne visit:
Facebook: https://www.facebook.com/DoctorPeterO…
Pinterest: https://www.pinterest.com/docosborne/
Instagram: https://www.instagram.com/drosborne
Twitter: https://twitter.com/glutenology
*These statements have not been evaluated by the Food and Drug Administration. This video is not intended to diagnose, treat, cure or prevent any disease. It is strictly intended for educational purposes only. Additionally, this information is not intended to replace the advice of your physician. Dr. Osborne is not a medical doctor. He does not treat or diagnose disease. He offers nutritional support to people seeking an alternative from traditional medicine. Dr. Osborne is licensed with the Pastoral Medical Association.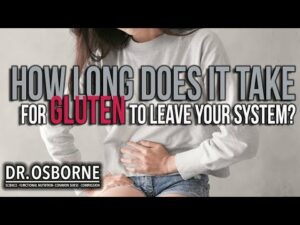 Gluten Shield - specially formulated for those seeking...