Newer research has shown evidence that patients with gluten and dairy reactions have the antibodies showing up in their cerebrospinal fluid (CSF). This is an indicator that a disruption in the blood brain barrier is present (i.e. Leaky Brain) [4] Why is this so abnormal? The blood brain barrier (BBB) is supposed to protect the brain from elements in the blood stream that could create potential harm. This includes antibodies, inflammatory compounds, infections… If this barrier becomes leaky, it opens up the potential for a number of health problems. Some of the most common include autoimmune diseases that impact the central nervous system. Beyond depression, examples include:
Migraine headaches
Multiple Sclerosis
Schizophrenia
Bipolar disease
Seizure disorders
Facial Palsies (i.e Bell's)
Neuropathy
Nerve pain syndromes
Depression
ADD/ADHD
Autism and other developmental disease
To connect with Dr. Osborne visit:
Facebook: https://www.facebook.com/DoctorPeterOsborne/
*These statements have not been evaluated by the Food and Drug Administration. This video is not intended to diagnose, treat, cure or prevent any disease. It is strictly intended for educational purposes only. Additionally, this information is not intended to replace the advice of your physician. Dr. Osborne is not a medical doctor. He does not treat or diagnose disease. He offers nutritional support to people seeking an alternative from traditional medicine. Dr. Osborne is licensed with the Pastoral Medical Association.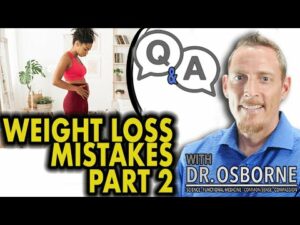 Think you might be gluten sensitive? Take the...