Prostaglandins are fatty compounds that act like hormones. The effect they have depends on where they're found. In some cases, prostaglandins can cause pain and inflammation. Thus, NSAIDs primarily work by inhibiting the release of prostaglandins.
However, prostaglandins are also responsible for secreting mucus that protects the lining of your digestive tract. Without this mucosal layer, stomach acid and other acidic substances can cause damage. This is why intestinal bleeding is a known side effect of long-term NSAID use.
NSAIDs are also metabolized in the liver, secreted into bile, and ultimately released into your small intestine. Once there, they've been shown to cause oxidative damage to the intestinal cells (a.k.a. enterocytes) that form the tight junctions of your intestinal lining and increase intestinal permeability.
In this observational study, researchers found a strong positive association between frequent aspirin use and the development of Crohn's disease, an inflammatory bowel disease that can affect both your small and large intestine. In fact, those who took aspirin regularly were 6 times more likely to develop Crohn's disease than those that didn't use aspirin.
In addition, regular aspirin use has been associated with a decrease in vitamin C and iron levels.
Vitamin C is a potent antioxidant that protects cells from damage. Iron deficiency as well as excess iron in the gut due to poor absorption can lead to gut bacteria imbalances. And it's worth noting that vitamin C helps boost the absorption of iron.
Birth control pills aren't just prescribed to help prevent pregnancy. In many cases, they're used to help regulate menstruation and reduce PMS symptoms. While this approach may be effective in some cases, it doesn't solve the underlying hormonal imbalance that's causing the problem. And it can lead to more problems. Because estrogen has inflammatory effects, which have been shown to increase the risk of inflammatory bowel disease, especially Crohn's disease.
Oral contraceptives have also been shown to decrease levels of the following nutrients:
Vitamin B6
Vitamin B12
Folate
Calcium
Magnesium
Vitamin C
Vitamin E
Magnesium is a key player when it comes to immune regulation and inflammation. Plus, deficiencies have been shown to alter the composition of gut bacteria.
Like vitamin C, vitamin E is also a powerful antioxidant.
To connect with Dr. Osborne visit:
Facebook: https://www.facebook.com/DoctorPeterOsborne/
*These statements have not been evaluated by the Food and Drug Administration. This video is not intended to diagnose, treat, cure or prevent any disease. It is strictly intended for educational purposes only. Additionally, this information is not intended to replace the advice of your physician. Dr. Osborne is not a medical doctor. He does not treat or diagnose disease. He offers nutritional support to people seeking an alternative from traditional medicine. Dr. Osborne is licensed with the Pastoral Medical Association.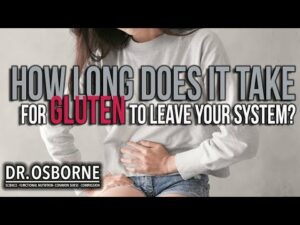 Gluten Shield - specially formulated for those seeking...