What can be done naturally to improve Type 2 diabetes?
There are a couple of different pieces of advice I can give you that will make a huge difference in helping you control your blood sugar.
Diabetes is a disease of choice.
If we're talking about type 2 diabetes, a lot of doctors will tell you it's family history, a lot of doctors will blame your genetics.
And one of the reasons we're seeing the popularity of the ketogenic diet emerge as possibly the best diet for diabetes – this diet works for people, and they are feeling better, feeling healthier, having more energy, losing weight, regulating their blood sugar as they cut back on carbs.
Ketogenic is actually a step in the opposite direction from diabetes, whereas diabetes is a carbohydrate toxic diet.
Remember, most diets in the United States are 60 to 80% carbohydrate, 20% protein, 10% fat, so it's the complete opposite of what it should be, but if you bring it to balance, it makes a huge difference in blood sugar and blood sugar regulation.
Remember, one of the ways we regulate blood sugar is muscle mass. Muscles help your body utilize glucose and muscles help your insulin receptors work better.
And so that might look like 10,000 steps a day, meaning making sure you're walking at least five miles a day and you might also want to think about incorporating some body weight activity, pushups, pull ups, squats, lunges, plank holds, jump ropes, burpees, body weight movements that will help your body build muscle tone without injuring yourself, because many diabetics are overweight, so doing too much heavy weight is already hard on their joints.
So body weight activity is the best place to start for somebody who's overweight with Type 2 diabetes.
Remember, grains promote elevation in blood sugar, they promote elevation and cortisol, which disrupts the way your insulin works.
To connect with Dr. Osborne visit:
Facebook: https://www.facebook.com/DoctorPeterO…
Pinterest: https://www.pinterest.com/docosborne/
Instagram: https://www.instagram.com/drosborne
Twitter: https://twitter.com/glutenology
*These statements have not been evaluated by the Food and Drug Administration. This video is not intended to diagnose, treat, cure or prevent any disease. It is strictly intended for educational purposes only. Additionally, this information is not intended to replace the advice of your physician. Dr. Osborne is not a medical doctor. He does not treat or diagnose disease. He offers nutritional support to people seeking an alternative from traditional medicine. Dr. Osborne is licensed with the Pastoral Medical Association.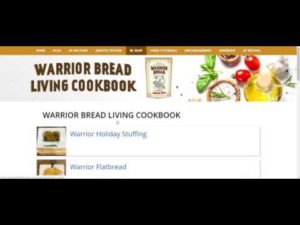 Grab Warrior Bread Here: https://www.glutenfreesociety.org/shop/supplements/warrior-bread-grain-free-bread-mix-presale/ Check out our...