Think you might be gluten sensitive? Take the quiz:
https://www.glutenfreesociety.org/gluten-sensitivity-intolerance-self-test/
I am not a big fan of the dehydrated powder foods that claim to have a 25 year shelf life. First of all, the vast majority of these products are not organic. Many of them are loaded with MSG and other preservatives. They typically contain a lot of grains like wheat, corn, oats, and rice. If you are trying to stay gluten free, the vast majority of these products won't work for you.
If you are working with a restricted budget or storage space, make sure to stock up on foods that are higher in protein and fat as they will literally give you and your family better gas mileage. Remember that the average person weighing 150 lbs. needs about 1500-2000 Calories daily to function at high capacity. So consider your family's needs as a whole. Also consider that buying foods that your family already eats is ideal. That way, you can eat through your stock and replenish it as you do instead of storing highly processed dehydrated powder food cannisters that will most likely never be eaten. The following list is not exhaustive, but should help get you moving in the right direction.
Canned Goods
Nuts in the Shell
Dehydrated Meats
Dehydrated Fruit
Frozen Goods
Dried Beans, Legumes, and Seeds
To connect with Dr. Osborne visit:
Facebook: https://www.facebook.com/DoctorPeterOsborne/
*These statements have not been evaluated by the Food and Drug Administration. This video is not intended to diagnose, treat, cure or prevent any disease. It is strictly intended for educational purposes only. Additionally, this information is not intended to replace the advice of your physician. Dr. Peter Osborne is one of the most sought after alternative and nutritional experts in the world. A Diplomate with the American Clinical Board of Nutrition, a graduate of Texas Chiropractic College, and a doctor of pastoral science, Dr. Osborne is one of the world's leading authorities on gluten, nutrition, and natural health. He is the founder GlutenFreeSociety.org, one of the world's largest informational sites on gluten sensitivity. In addition, he is the author of the best selling book, No Grain No Pain, published by Touchstone (Simon & Schuster). His work has been featured by PBS, Netflix, Amazon, Fox, and many other nationally recognized outlets. For more information, visit us at https://www.glutenfreesociety.org/ or call 281-903-7527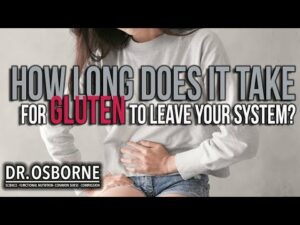 Gluten Shield - specially formulated for those seeking...