Think you might be gluten sensitive? Take the quiz:
https://www.glutenfreesociety.org/gluten-sensitivity-intolerance-self-test/
One of the most common forms of unintentional gluten exposure comes from both over the counter and prescription medications. Often times doctors are not aware that their prescribed medications contain the toxic protein ingredient, and their patients get a daily dose of hidden gluten.
The medication issue is often times a big problem in patients going gluten free and trying to restore good health. I have seen patients stay sick because a prescription drug contained various forms of gluten. The irony here is that the drug is supposed to have a benefit, but serves the opposite function in these types of cases. There are so many ways we can get exposed to hidden gluten – medicine should not be one of them.
If you are taking a prescription drug, make sure you check with the doctor, the pharmacist, and the drug manufacturer to get clarification on whether or not it contains grains
To connect with Dr. Osborne visit:
Facebook: https://www.facebook.com/DoctorPeterOsborne/
*These statements have not been evaluated by the Food and Drug Administration. This video is not intended to diagnose, treat, cure or prevent any disease. It is strictly intended for educational purposes only. Additionally, this information is not intended to replace the advice of your physician. Dr. Peter Osborne is one of the most sought after alternative and nutritional experts in the world. A Diplomate with the American Clinical Board of Nutrition, a graduate of Texas Chiropractic College, and a doctor of pastoral science, Dr. Osborne is one of the world's leading authorities on gluten, nutrition, and natural health. He is the founder GlutenFreeSociety.org, one of the world's largest informational sites on gluten sensitivity. In addition, he is the author of the best selling book, No Grain No Pain, published by Touchstone (Simon & Schuster). His work has been featured by PBS, Netflix, Amazon, Fox, and many other nationally recognized outlets. For more information, visit us at https://www.glutenfreesociety.org/ or call 281-903-7527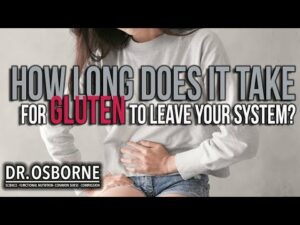 Gluten Shield - specially formulated for those seeking...