Think you might be gluten sensitive? Take the quiz:
https://www.glutenfreesociety.org/gluten-sensitivity-intolerance-self-test/
Hist Assist – http://glutenfreesociety.org/HistAssist
Histamine intolerance can be hard to diagnose. The symptoms involved vary widely and can overlap with symptoms of other conditions.
Histamine can affect a number of organ systems which can then manifest through a number of symptoms. Below is a breakdown of the most common symptoms.
Respiratory system
Rhinitis
Nasal congestion
Sneezing
Rhinorrhea (nasal discharge)
Dyspnea (difficult or labored breathing)
Gastrointestinal system
Nausea
Vomiting
Diarrhea
Abdominal pain
Constipation
Bloating
Feelings of fullness after eating any amount
Nervous system
Headache
Dizziness
Circulatory system
Hypotonia (weakened muscle tone)
Tachycardia (rapid heart rate)
Collapse
Skin
Sudden facial erythema (flushing)
Pruritus (itchy dry skin)
Rashes
Eczema
Swelling
Reproductive system
Irregular periods in women
To connect with Dr. Osborne visit:
Facebook: https://www.facebook.com/DoctorPeterOsborne/
*These statements have not been evaluated by the Food and Drug Administration. This video is not intended to diagnose, treat, cure or prevent any disease. It is strictly intended for educational purposes only. Additionally, this information is not intended to replace the advice of your physician. Dr. Peter Osborne is one of the most sought after alternative and nutritional experts in the world. A Diplomate with the American Clinical Board of Nutrition, a graduate of Texas Chiropractic College, and a doctor of pastoral science, Dr. Osborne is one of the world's leading authorities on gluten, nutrition, and natural health. He is the founder GlutenFreeSociety.org, one of the world's largest informational sites on gluten sensitivity. In addition, he is the author of the best selling book, No Grain No Pain, published by Touchstone (Simon & Schuster). His work has been featured by PBS, Netflix, Amazon, Fox, and many other nationally recognized outlets. For more information, visit us at https://www.glutenfreesociety.org/ or call 281-903-7527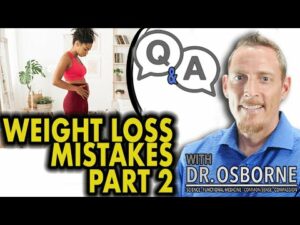 Think you might be gluten sensitive? Take the...