00:00 – can vitamin D3 in supplements cause cholesterol to increase?
00:54 – should vitamin D-3 be taken with K-2?
05:19 – can the villi in the small intestine recover once you have gone grain-free?
07:10 – losing sleep to overactive bladder
08:24 – sore throat from paper surgical masks?
09:10 – is elderberry syrup good for immune support?
10:08 – is liposomal vitamin d preferred?
12:35 – what kinds of tests measure cortisol?
13:28 – what kind of immune support would you suggest if I have to get on a plane?
15:38 – can a happy lamp be a good sunshine alternative on a rainy day?
16:10 – what is high goes vitamin D therapy used for?
17:27 – what exercises would you recommend for someone with a back injury?
19:51 – after taking high dose vitamin D therapy do I continue taking capsules after that?
21:44 – where can someone start if they react to every supplement?
23:07 – how can a mailman be low in vitamin D if they spend so much time outside?
24:00 – do you believe that everyone should be on a lectin free diet?
To connect with Dr. Osborne visit:
Facebook: https://www.facebook.com/DoctorPeterOsborne/
*These statements have not been evaluated by the Food and Drug Administration. This video is not intended to diagnose, treat, cure or prevent any disease. It is strictly intended for educational purposes only. Additionally, this information is not intended to replace the advice of your physician. Dr. Osborne is not a medical doctor. He does not treat or diagnose disease. He offers nutritional support to people seeking an alternative from traditional medicine. Dr. Osborne is licensed with the Pastoral Medical Association.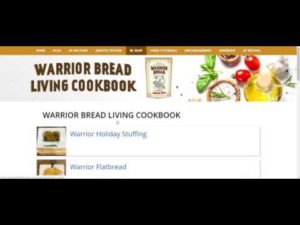 Grab Warrior Bread Here: https://www.glutenfreesociety.org/shop/supplements/warrior-bread-grain-free-bread-mix-presale/ Check out our...