What causes vitamin B2 deficiency?
No surprise here, the biggest thing on my list is gluten. Gluten causes intestinal inflammation, which leads to malabsorption, which leads to deficiency.
Other contributors include:
Aggressive exercise
Hypothyroidism
Adrenal fatigue
Alcohol
Diuretics
Diet high in processed foods
To connect with Dr. Osborne visit:
Facebook: https://www.facebook.com/DoctorPeterOsborne/
*These statements have not been evaluated by the Food and Drug Administration. This video is not intended to diagnose, treat, cure or prevent any disease. It is strictly intended for educational purposes only. Additionally, this information is not intended to replace the advice of your physician. Dr. Osborne is not a medical doctor. He does not treat or diagnose disease. He offers nutritional support to people seeking an alternative from traditional medicine. Dr. Osborne is licensed with the Pastoral Medical Association.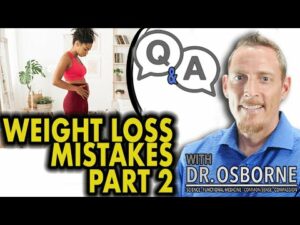 Think you might be gluten sensitive? Take the...