Supplements discussed in this video:
Vitamin C – https://bit.ly/2lTLQVW
Vitamin D –
1. High Potency vitamin D in 50,000 unit caps – https://bit.ly/2kGoXVN
2. Emulsified Vitamin D3 drops – https://bit.ly/2MVmYrO
3. Vitamin D with vitamin K2 – https://bit.ly/2o4Q5zg
Quercetin – https://bit.ly/2P242ry
Zinc Tablets – https://bit.ly/37zk4AL
Zinc Lozenges – https://bit.ly/3hiP51B
The Eastern Virginia School of Medicine has a protocol for COVID 19 that actually recommends nutrients for prophylaxis and immune system support.
This is exactly what I was talking about in March when some press outlets ran smear articles based upon my recommendations.
My point is this: whether you believe this is a massive dangerous pandemic or whether you believe otherwise – it is still cold and flu season. Vitamin D is a critical nutrient that can save lives.
To connect with Dr. Osborne visit:
Facebook: https://www.facebook.com/DoctorPeterOsborne/
*These statements have not been evaluated by the Food and Drug Administration. This video is not intended to diagnose, treat, cure or prevent any disease. It is strictly intended for educational purposes only. Additionally, this information is not intended to replace the advice of your physician. Dr. Osborne is not a medical doctor. He does not treat or diagnose disease. He offers nutritional support to people seeking an alternative from traditional medicine. Dr. Osborne is licensed with the Pastoral Medical Association.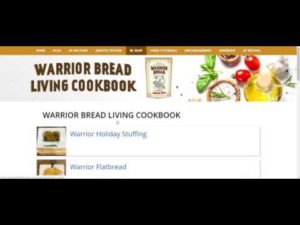 Grab Warrior Bread Here: https://www.glutenfreesociety.org/shop/supplements/warrior-bread-grain-free-bread-mix-presale/ Check out our...