Think you might be gluten sensitive? Take the quiz:
https://www.glutenfreesociety.org/gluten-sensitivity-intolerance-self-test/
00:00 – only 7 hours?
00:30 – how can I relieve stiff neck pain?
01:26 – what are some safe pain relievers for injury?
02:15 – what about corn fiber?
03:17 – replays of these presentations?
04:11 – what about sprouted quinoa?
04:40 – time zones for optimal sleeping?
05:48 – I thought eating corn was okay?
06:30 – is tinnitus pain caused by gluten?
06:45 – opinion on prescription sleeping pills?
07:39 – what kind of nutritional support for hypermobility?
08:40 – what nutrient deficiencies contribute to female hair loss?
09:20 – thoughts on contrast therapy for chronic pain?
10:00 – turmeric and black pepper?
11:00 – pizza crust with hemp flour?
11:20 – CBD?
12:00 – can 5 grams of MSM be harmful?
12:15 – if you stop pain by cutting out gluten can you also still supplement to help?
13:47 – doctors being incentivized
14:58 – what can I take for dental implant pain?
15:40 – tingling numbness and cramping in hands and feet?
16:12 – what's your take for TENS units for pain?
17:03 – can early greying of the hair be associated with nutritional deficiencies?
17:50 – what's a good vitamin C to take?
18:40 – what do you recommend for cervical stenosis pain?
20:48 – upper thigh pain when walking up the steps?
21:24 – Recommended dose for omega 3 after gall bladder removal?
22:44 – what can help with TMJ pain?
23:34 – knee pain when walking down the stairs?
To connect with Dr. Osborne visit:
Facebook: https://www.facebook.com/DoctorPeterOsborne/
*These statements have not been evaluated by the Food and Drug Administration. This video is not intended to diagnose, treat, cure or prevent any disease. It is strictly intended for educational purposes only. Additionally, this information is not intended to replace the advice of your physician. Dr. Peter Osborne is one of the most sought after alternative and nutritional experts in the world. A Diplomate with the American Clinical Board of Nutrition, a graduate of Texas Chiropractic College, and a doctor of pastoral science, Dr. Osborne is one of the world's leading authorities on gluten, nutrition, and natural health. He is the founder GlutenFreeSociety.org, one of the world's largest informational sites on gluten sensitivity. In addition, he is the author of the best selling book, No Grain No Pain, published by Touchstone (Simon & Schuster). His work has been featured by PBS, Netflix, Amazon, Fox, and many other nationally recognized outlets. For more information, visit us at https://www.glutenfreesociety.org/ or call 281-903-7527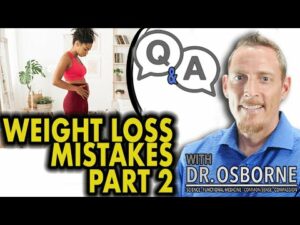 Think you might be gluten sensitive? Take the...