Biotic Defense: https://bit.ly/3m0wQPm
Ultra Biotic Defense: https://bit.ly/2nQGNqw
IBS and celiac disease can have very similar symptoms. This can make both diagnosis and treatment a challenge. However, research has indicated that there is more to this similarity of symptoms than a coincidence.
Many studies suggest that IBS patients are affected by undiagnosed food allergy or food intolerance. This relationship has been examined in a wide array of research and has been estimated at anywhere from 5–50% of all IBS cases. In fact, one study found a high prevalence of food allergies in patients with Irritable Bowel Disease (IBD). The mechanism of increased incidence of IBS in patients with food allergies is not fully understood, but increased intestinal permeability (also known as leaky gut) is often suggested.
Furthermore, research has noted that patients with undetected celiac disease may present with IBS symptoms. This has led to the recommendation by the American College of Gastroenterology Task force that patients presenting with diarrhea predominant IBS symptoms should be tested for celiac disease. In addition, as we know that the general public in the United States have increased adoption of a gluten-free diet far in excess of the known prevalence of celiac disease, it is believed that many individuals with gastrointestinal symptoms are deriving benefit from a gluten free diet even if they do not have celiac disease.
To connect with Dr. Osborne visit:
Facebook: https://www.facebook.com/DoctorPeterOsborne/
*These statements have not been evaluated by the Food and Drug Administration. This video is not intended to diagnose, treat, cure or prevent any disease. It is strictly intended for educational purposes only. Additionally, this information is not intended to replace the advice of your physician. Dr. Osborne is not a medical doctor. He does not treat or diagnose disease. He offers nutritional support to people seeking an alternative from traditional medicine. Dr. Osborne is licensed with the Pastoral Medical Association.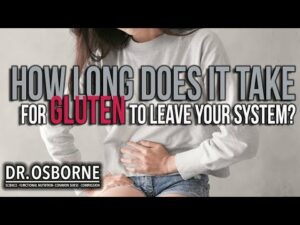 Gluten Shield - specially formulated for those seeking...