Biotic Defense: https://bit.ly/3m0wQPm
Ultra Biotic Defense: https://bit.ly/2nQGNqw
Research has estimated that up to a third of patients with gastrointestinal disorders like IBS have symptoms of more than one condition, suggesting a common underlying root cause.
Most research focuses on the health of the gastrointestinal microbiome (the "gut") as a whole as a primary driving factor behind these symptoms, diseases, and even potential treatments.
While researchers acknowledge that there is a complex interplay of several factors that seem to underlie the disordered physiological processes that cause, result from, and are otherwise associated with IBS, a growing body of evidence supports the role of the microbiome and innate immune system alterations.
One way in which the microbiome can be disrupted and thrown into a state of dysbiosis, or imbalance, is by the ingestion of gluten in those who cannot tolerate it. Research has shown that wheat gliadin can activate innate immune cells and contribute to the impairment of intestinal mucosa and the development of intestinal and/or systemic inflammation.
This imbalance can, in part, be addressed with a gluten-free diet. A study published in the Journal of Gastroenterology confirms a direct benefit of patients suffering with IBS after following a gluten free diet. It came to the following very promising conclusions:
– A gluten free diet reduced diarrhea in patients with IBS.
– There was a noticeable and measurable increase in leaky gut (intestinal permeability) in those eating gluten.
– Gluten caused an increased production of inflammatory markers.
– Everything was worse in patients who had positive gene markers for gluten sensitivity.
To connect with Dr. Osborne visit:
Facebook: https://www.facebook.com/DoctorPeterOsborne/
*These statements have not been evaluated by the Food and Drug Administration. This video is not intended to diagnose, treat, cure or prevent any disease. It is strictly intended for educational purposes only. Additionally, this information is not intended to replace the advice of your physician. Dr. Osborne is not a medical doctor. He does not treat or diagnose disease. He offers nutritional support to people seeking an alternative from traditional medicine. Dr. Osborne is licensed with the Pastoral Medical Association.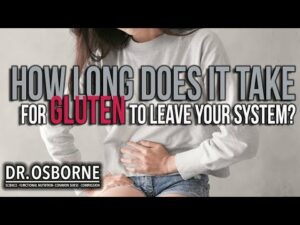 Gluten Shield - specially formulated for those seeking...