Website: https://drpeterosborne.com/
If you are looking to lower your blood pressure naturally, follow these 3 simple steps.
#1 Avoid processed foods, salts, and chemicals additives
#2 Eat foods rich in potassium, magnesium, and calcium
#3 Move – Exercise is super important to help your heart be an effective pump. Without exercise, the heart weakens and blood pressure problems ensue.
Bonus #4 – Talk with your doctor if you are on blood pressure medicines. Many of these can contribute to nutritional deficiencies of calcium, magnesium, potassium, and B vitamins…all of which can elevate your blood pressure.
To connect with Dr. Osborne visit:
On The Web: https://drpeterosborne.com/
Facebook: https://www.facebook.com/DoctorPeterO…
Pinterest: https://www.pinterest.com/docosborne/
Instagram: https://www.instagram.com/drosborne
Twitter: https://twitter.com/glutenology
*These statements have not been evaluated by the Food and Drug Administration. This video is not intended to diagnose, treat, cure or prevent any disease. It is strictly intended for educational purposes only. Additionally, this information is not intended to replace the advice of your physician. Dr. Osborne is not a medical doctor. He does not treat or diagnose disease. He offers nutritional support to people seeking an alternative from traditional medicine. Dr. Osborne is licensed with the Pastoral Medical Association.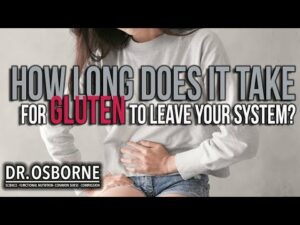 Gluten Shield - specially formulated for those seeking...