Get Hist Assist here: https://bit.ly/33i83xa
Hist Assist is designed to provide comprehensive support for seasonal challenges caused by common environmental allergens. Our formula includes quercetin, a powerful flavonoid, to support healthy histamine levels. Bromelain enhances the absorption of quercetin and supports mucosal tissue health. Stinging nettles leaf balance hyper-immune response and N-acetyl cysteine clear the airways by promoting normal viscosity of mucus. This powerful combination actively promotes healthy nasal and sinus passages for individuals with elevated histamine and respiratory irritation.
– Supports Immune Balance in Hypersensitive Individuals
– Supports Sinus and Respiratory Health
– Promotes Normal Viscosity of Mucus
– Clears Nasal Passages
To connect with Dr. Osborne visit:
Facebook: https://www.facebook.com/DoctorPeterOsborne/
*These statements have not been evaluated by the Food and Drug Administration. This video is not intended to diagnose, treat, cure or prevent any disease. It is strictly intended for educational purposes only. Additionally, this information is not intended to replace the advice of your physician. Dr. Osborne is not a medical doctor. He does not treat or diagnose disease. He offers nutritional support to people seeking an alternative from traditional medicine. Dr. Osborne is licensed with the Pastoral Medical Association.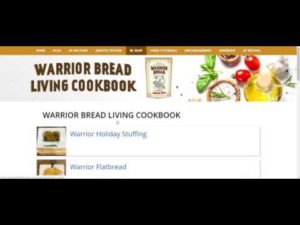 Grab Warrior Bread Here: https://www.glutenfreesociety.org/shop/supplements/warrior-bread-grain-free-bread-mix-presale/ Check out our...