You can get Warrior Bread Mix right here:
https://www.glutenfreesociety.org/shop/supplements/warrior-bread-grain-free-bread-mix-presale/
The recipe is below:
Gluten and Grain Free Beef Empanadas (No Grain No Pain Approved)
Makes 8 empanadas. Active time 45 minutes, cook time 35 minutes.
Filling
● 1 tablespoon olive oil
● 1 small onion
● 1 pound ground beef
● 1 clove garlic, minced
● 1/4 cup chopped olives
● 1 teaspoon cumin
● 1 teaspoon smoked paprika
● 1/2 teaspoon chili powder
● 2 tablespoons coconut cream
Empanada Dough
● 6 egg whites
● 1 cup water
● 2 tablespoons red vinegar
● 1 package Warrior Bread mix
Tomato Salad
● 2 tomatoes
● 1 english cucumber
● 1 clove garlic, grated
● 1 lime
● salt and pepper
INSTRUCTIONS
1. In a frying pan on medium high heat, add the olive oil and the onions. Season with salt and cook about 7 minutes until the onion is softened and just starting to lightly brown on the edges.
2. Add the ground beef and cook about 10 minutes, stirring often, until the beef is browned and cooked through. If there is excess oil, drain now.
3. Add the garlic and stir to combine. Add the olive and spices and stir to combine. Add the coconut cream and stir until it is melted and combined. Cook 2 minutes and remove from heat. Allow to cool fully before making the empanadas.
4. Whisk the egg whites in a bowl with the water and vinegar. Add in the Warrior Bread mixture and mix until it comes together.
5. Preheat oven to 375.
6. Split the dough into 8 equal pieces. Lay parchment paper on a flat surface. Add one of the dough segments. Flatten the dough out into an oval shape using another piece of parchment on top to keep it from sticking. Add about 1/4 cup of the meat mixture to one side of the dough oval. Use the parchment paper to help you fold the dough over onto itself. Press the sides to seal and fold the edges over to form the classic empanada shape.
7. Repeat with the remaining balls of dough.
8. Put the empanadas onto a baking sheet lined with parchment paper and bake for 35 minutes.
9. Meanwhile, make the salad by combining all the ingredients in a bowl.
10. Remove the empanadas from the oven and allow to cool for 5 minutes before serving. Serve with a scoop of the tomato salad.
If you have gone gluten free and miss empanadas, this is the real deal. This recipe uses Warrior Bread Mix and a few other very simple ingredients. Empanadas are back!
https://www.glutenfreesociety.org/shop/supplements/warrior-bread-grain-free-bread-mix-presale/
To connect with Dr. Osborne visit:
Facebook: https://www.facebook.com/DoctorPeterO…
Pinterest: https://www.pinterest.com/docosborne/
Instagram: https://www.instagram.com/drosborne
Twitter: https://twitter.com/glutenology
to people seeking an alternative from traditional medicine. Dr. Osborne is licensed with the Pastoral Medical Association.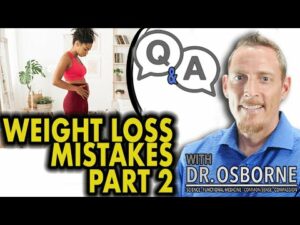 Think you might be gluten sensitive? Take the...