Grab your Gluten/Grain Free Warrior Bread Mix here – https://bit.ly/2OE9bXU
Gluten Free Beef Wellington Recipe – Amazing!
Makes 4 individual Wellingtons
Takes 2 hours
5 ounces mushrooms, cleaned and diced
1 2 cloves garlic
1/4 cup finely chopped parsley
1 pack warrior bread mixture
1 cup eggs
1 cup water
2 tablespoons cider vinegar
4 4oz filets
1 cup beef broth
1 teaspoon tapioca flour
INSTRUCTIONS
1. Heat a small frying pan over medium high heat and add a little olive oil. Add the mushrooms, garlic, and parsley. Season with salt and pepper. Turn heat to low and cook about 15 minutes. Remove from heat and allow to cool.
2. Mix the bread mixture with the eggs, water, and vinegar. Stir to combine and knead for one minute.
3. Preheat oven to 400
4. Put a piece of parchment paper down and put 1/4 of the dough on it. Put another piece of parchment on top and roll it out thin. Take the top parchment off and put a filet down. Season the filet aggressively with salt and pepper and top with a tablespoon of the mushroom mixture. Wrap the bread around the meat using the bottom parchment to help. Squeeze the dough tight and seal it on all sides.
5. Repeat with the remaining filets.
6. Line a baking sheet with parchment paper and put the wrapped filets on it. Bake about 25 minutes.
7. Check the temperature of the largest filet with an instant read thermometer. You want to take it out of the oven around 130 for a nice medium rare center. (the temperature will rise about 5-10 degrees after you take it out)
8. Meanwhile, reduce the broth about 50 percent in a shallow pan over medium heat. Sprinkle on about half the tapioca flour and whisk. Cook 2 minutes to thicken. Add more flour if desired.
9. Serve the wellingtons with the gravy and your favorite veggie.
To connect with Dr. Osborne visit:
Phone#: 281-903-7527
Facebook: https://www.facebook.com/DoctorPeterOsborne/
*These statements have not been evaluated by the Food and Drug Administration. This video is not intended to diagnose, treat, cure or prevent any disease. It is strictly intended for educational purposes only. Additionally, this information is not intended to replace the advice of your physician. Dr. Osborne is not a medical doctor. He does not treat or diagnose disease. He offers nutritional support to people seeking an alternative from traditional medicine. Dr. Osborne is licensed with the Pastoral Medical Association.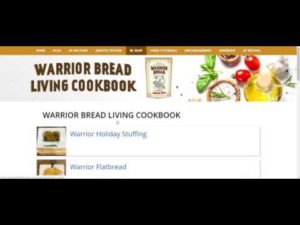 Grab Warrior Bread Here: https://www.glutenfreesociety.org/shop/supplements/warrior-bread-grain-free-bread-mix-presale/ Check out our...