Think you might be gluten sensitive? Take the quiz:
https://www.glutenfreesociety.org/gluten-sensitivity-intolerance-self-test/
Understand nutrition through education. Take a course in nutrition or read a book. Familiarize yourself with eating nutrient dense foods. Your body is your temple, and no one will take care of it better than you. That being said, it is hard to take care of something if you don't know how. Read, get informed, and pay attention to the way your body reacts to food.
Keep it simple. That means eating real food. If it comes in a package, always read the label. Take ownership of the ingredients you put into your body. If you suspect food intolerances or allergies, get with a good functional medicine doctor to help you navigate the waters.
Don't worry about counting calories. As long as you are eating nutrient dense foods, there is no need to count your calories, unless you are managing your weight.
Eat organic grass fed meats, free range chicken, wild caught seafood, organic vegetables, fruits, nuts and small amounts of healthy seeds (pumpkin, chia, flax, sunflower). Yes it matters. Remember that most pesticides have been linked to increased risk for cancer. Many pesticides act as chemical estrogens.
Drink filtered water. Avoid any chlorines, bromines, metals or other compounds that may be contaminated in the water, which can interrupt normal gut function. If you live in a major metropolitan area, you should know that up to 42 prescription drugs have been identified from the tap.
Limit or eliminate caffeine and alcohol intake. Large amounts of caffeine can lead to dehydration, adrenal stress, and can interfere with normal sleep patterns. Alcohol is devoid of any nutrients and is basically empty calories, which can also lead to dehydration.
To connect with Dr. Osborne visit:
Facebook: https://www.facebook.com/DoctorPeterOsborne/
*These statements have not been evaluated by the Food and Drug Administration. This video is not intended to diagnose, treat, cure or prevent any disease. It is strictly intended for educational purposes only. Additionally, this information is not intended to replace the advice of your physician. Dr. Peter Osborne is one of the most sought after alternative and nutritional experts in the world. A Diplomate with the American Clinical Board of Nutrition, a graduate of Texas Chiropractic College, and a doctor of pastoral science, Dr. Osborne is one of the world's leading authorities on gluten, nutrition, and natural health. He is the founder GlutenFreeSociety.org, one of the world's largest informational sites on gluten sensitivity. In addition, he is the author of the best selling book, No Grain No Pain, published by Touchstone (Simon & Schuster). His work has been featured by PBS, Netflix, Amazon, Fox, and many other nationally recognized outlets. For more information, visit us at https://www.glutenfreesociety.org/ or call 281-903-7527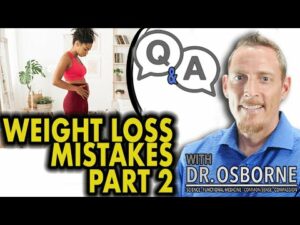 Think you might be gluten sensitive? Take the...