My favorite B6 containing supplements:
Multi Nutrients (multi vitamin with high levels of B6) – https://bit.ly/2Ie7FuJ
B Complete (B complex with B6) – https://bit.ly/38wEcnW
00:00 – how do address hyperphosphetemia?
00:45 – can being low on vitamin D mimic fibromyalgia?
01:00 – getting homocysteine under control
02:20 – is homocysteine the same as NAC?
02:45 – best time to take B vitamins?
03:25 – do you recommend a B vitamin supplement in a fasting lifestyle?
04:20 – does caffeine impact absorption of vitamin B6?
06:55 – does sugar consumption deplete B6?
07:40 – are folate and folic acid the same thing?
08:49 – cowsharing/grass fed beef
09:18 – will mold rob my body of B6?
11:20 – could B6 deficiency cause high oxalates?
12:00 – does taking NAC raise homocysteine?
13:14 – how do you raise serotonin levels naturally?
14:25 – leading causes of vitamin B6 deficiency?
15:32 – What tests should you use to indicate B6 deficiency?
17:21 – does L-glutamine feed cancer?
18:20 – B vitamins and seizures
19:00 – Is a deficiency in one vitamin indicative of other deficiencies?
21:16 – How do I know for sure if my symptoms are due to B6 deficiency?
23:30 – are there common deficiencies that contribute to Hashimoto's, Sjogrens, and Lupus?
24:25 – is there a DNA mutation that can contribute to gluten sensitivity?
25:41 – can I take Ultra Nutrients and B Complete?
26:10 – why does NAC cause very bad body odor?
To connect with Dr. Osborne visit:
Facebook: https://www.facebook.com/DoctorPeterOsborne/
*These statements have not been evaluated by the Food and Drug Administration. This video is not intended to diagnose, treat, cure or prevent any disease. It is strictly intended for educational purposes only. Additionally, this information is not intended to replace the advice of your physician. Dr. Osborne is not a medical doctor. He does not treat or diagnose disease. He offers nutritional support to people seeking an alternative from traditional medicine. Dr. Osborne is licensed with the Pastoral Medical Association.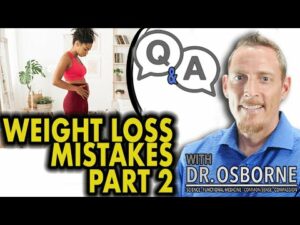 Think you might be gluten sensitive? Take the...