Let's talk about some diseases linked to riboflavin (aka vitamin B2) deficiency.
Migraine
Cancer
Preeclampsia
Anemia
Diabetes
Seborrhreic Dermatitis
Cataract
High Blood Pressure
Brown-Vialetto-Van-Laere syndrome (BVVL), sometimes known as Brown's Syndrome
To help cover your bases, some foods that you can eat more of that are rich in vitamin B2 include:
Leafy Greens
Almonds
Mushrooms
Sweet Potatoes
Seaweed
Salmon
Pastured Eggs
Sardines
Broccoli
Brussel Sprouts
Green Beans
Bell Peppers
Winter Squash
To connect with Dr. Osborne visit:
Facebook: https://www.facebook.com/DoctorPeterOsborne/
*These statements have not been evaluated by the Food and Drug Administration. This video is not intended to diagnose, treat, cure or prevent any disease. It is strictly intended for educational purposes only. Additionally, this information is not intended to replace the advice of your physician. Dr. Osborne is not a medical doctor. He does not treat or diagnose disease. He offers nutritional support to people seeking an alternative from traditional medicine. Dr. Osborne is licensed with the Pastoral Medical Association.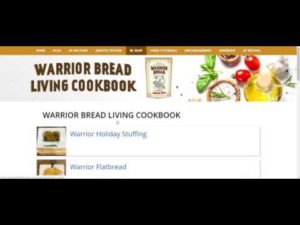 Grab Warrior Bread Here: https://www.glutenfreesociety.org/shop/supplements/warrior-bread-grain-free-bread-mix-presale/ Check out our...