Need more information on this topic? Visit here – https://www.glutenfreesociety.org/can-gluten-cause-asthma/
Research has quoted the "hygiene hypothesis" as a potential factor for asthma risk, which suggests that infants and children that aren't exposed to a healthy dose of beneficial bacteria develop weak immune systems that can increase their chances of developing immune-related diseases like asthma. For instance, it may cause their immune system to overreact to a stimulus that isn't inherently dangerous, such as pollen or dust.
In one study, researchers studied two groups of farmers: The Amish and the Hutterites. They have similar lifestyles and genetic backgrounds. But the Amish use traditional farming practices and the Hutterites use mechanical techniques.
It was reported that the prevalence of asthma was 4 to 6 times lower among Amish children when compared to the Hutterites. The load of bacterial metabolites found in the homes of the Amish was also 7 times higher than the Hutterites. Thus, the researchers concluded that the bacteria-rich environment of the Amish was protective against asthma due to its ability to strengthen the innate immune system.
To connect with Dr. Osborne visit:
Facebook: https://www.facebook.com/DoctorPeterOsborne/
*These statements have not been evaluated by the Food and Drug Administration. This video is not intended to diagnose, treat, cure or prevent any disease. It is strictly intended for educational purposes only. Additionally, this information is not intended to replace the advice of your physician. Dr. Osborne is not a medical doctor. He does not treat or diagnose disease. He offers nutritional support to people seeking an alternative from traditional medicine. Dr. Osborne is licensed with the Pastoral Medical Association.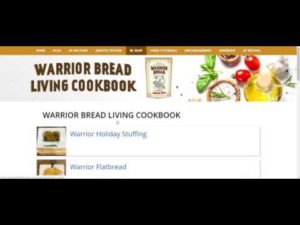 Grab Warrior Bread Here: https://www.glutenfreesociety.org/shop/supplements/warrior-bread-grain-free-bread-mix-presale/ Check out our...