Think you might be gluten sensitive? Take the quiz:
https://www.glutenfreesociety.org/gluten-sensitivity-intolerance-self-test/
00:00 – I get intestinal blockage and can't figure out why
02:27 – what if your gall bladders been removed?
04:12 – can you detect a fatty liver through an ultrasound?
04:25 – how can you remedy too much yeast?
07:43 – health consequences of removing the gall bladder
10:58 – can NAC alone raise glutathione levels?
11:27 – I have an alpha-gal allergy from a tick bite.
11:58 – some of my vitamins have polyethylene glycol!
12:24 – I have Hashimotos. How can I know if my gut is healed or not?
13:39 – Unable to get outside first thing in the morning. What lights can I get to kick in the circadian rhythm?
14:43 – can you drink matcha?
15:00 – Can bad armpit odor be due to too much sugar?
15:15 – When will your book be put out in Spanish?
16:30 – any meet and greets or book signings?
16:56 – sarcoidosis and vitamin D supplementation
18:05 – how much fructose can the average person handle?
18:56 – been grain free for years and am not getting better
20:08 – can you use Ultra Digest without drinking 8 oz of water?
20:24 – do you recommend taking Vitamin E for hypothyroidism?
21:12 – do you recommend grounding while sleeping?
21:39 – could higher doses of zinc cause copper deficiency?
22:14 – what if your pancreas is removed?
22:54 – any products suggested if you have have your appendix removed?
23:43 – what causes excessive sweating?
23:52 – is a magnesium blood serum test reliable?
24:32 – safe dose for zinc?
24:55 – iodine and boron as a detox?
To connect with Dr. Osborne visit:
Facebook: https://www.facebook.com/DoctorPeterOsborne/
*These statements have not been evaluated by the Food and Drug Administration. This video is not intended to diagnose, treat, cure or prevent any disease. It is strictly intended for educational purposes only. Additionally, this information is not intended to replace the advice of your physician. Dr. Peter Osborne is one of the most sought after alternative and nutritional experts in the world. A Diplomate with the American Clinical Board of Nutrition, a graduate of Texas Chiropractic College, and a doctor of pastoral science, Dr. Osborne is one of the world's leading authorities on gluten, nutrition, and natural health. He is the founder GlutenFreeSociety.org, one of the world's largest informational sites on gluten sensitivity. In addition, he is the author of the best selling book, No Grain No Pain, published by Touchstone (Simon & Schuster). His work has been featured by PBS, Netflix, Amazon, Fox, and many other nationally recognized outlets. For more information, visit us at https://www.glutenfreesociety.org/ or call 281-903-7527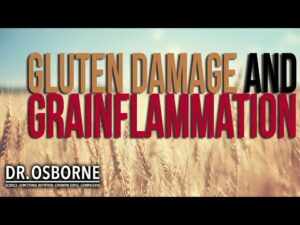 Think you might be gluten sensitive? Take the...