Think you might be gluten sensitive? Take the quiz:
https://www.glutenfreesociety.org/gluten-sensitivity-intolerance-self-test/
Cancer is sometimes mistakenly seen as a foreign invader attacking your body. But that's not what happens. Instead, cancer is when your own cells begin to grow abnormally. They grow faster than normal cells. They don't function properly. They spread easily. And your body is unable to stop them.
So what causes your cells to grow abnormally?
Ultimately, genetic mutations and changes in gene expression (turning genes on or off) come into play. However, only 10% of cancer cases involve inherited gene mutations. The remaining 90% of cancers involve genetic mutations and changes in gene expression that occur after birth.
This is an important concept to grasp. Because it means that most cancers are preventable. Even if you're genetically predisposed.
Research has shown an increased risk of developing cancer for those with gluten sensitivity who fail to follow a strict gluten free diet. For cancers of the mouth, esophagus and pharynx, there was a 22.7% increased relative risk. For lymphoma, there was a 77.8% increased relative risk.
Other research studies have shown that those with celiac disease who fail to comply to gluten free dietary restrictions have an increased risk for cancers of the intestine, colon, rectum, esophagus, thyroid, pancreas, skin, liver, and stomach.
Aside from the studies that show a direct increase in cancer development, eating gluten (and grains) can also contribute to almost all of the cancer risk factors I outlined above.
To connect with Dr. Osborne visit:
Facebook: https://www.facebook.com/DoctorPeterOsborne/
*These statements have not been evaluated by the Food and Drug Administration. This video is not intended to diagnose, treat, cure or prevent any disease. It is strictly intended for educational purposes only. Additionally, this information is not intended to replace the advice of your physician. Dr. Peter Osborne is one of the most sought after alternative and nutritional experts in the world. A Diplomate with the American Clinical Board of Nutrition, a graduate of Texas Chiropractic College, and a doctor of pastoral science, Dr. Osborne is one of the world's leading authorities on gluten, nutrition, and natural health. He is the founder GlutenFreeSociety.org, one of the world's largest informational sites on gluten sensitivity. In addition, he is the author of the best selling book, No Grain No Pain, published by Touchstone (Simon & Schuster). His work has been featured by PBS, Netflix, Amazon, Fox, and many other nationally recognized outlets. For more information, visit us at https://www.glutenfreesociety.org/ or call 281-903-7527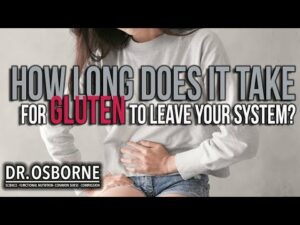 Gluten Shield - specially formulated for those seeking...