Website: https://drpeterosborne.com/
How do we get calcium in the diet? What are the best sources of calcium if you are not using dairy?
Dairy is a rich source of calcium, but so many of you listening tonight are dairy sensitive, dairy intolerant, don't do well with the type of dairy that's being produced on commercial farms in the U.S. where we have massive hormones, massive chemicals, massive stress on the animals, animals being fed tons of grain with genetically modified pesticides all in them.
So if you're not choosing dairy as a source for calcium, don't panic. Let's talk about what other food sources are rich in calcium.
You could put dairy on the list if you were using dairy that was non-processed, potentially that was raw from animals that were grass pasture-raised and weren't being fed the hormones or the chemically-loaded food or being locked up in small bins and being forced to produce milk, many, many hours of their day, where they run the risk of infection and other problems in that dairy.
To connect with Dr. Osborne visit:
Facebook: https://www.facebook.com/DoctorPeterO…
Pinterest: https://www.pinterest.com/docosborne/
Instagram: https://www.instagram.com/drosborne
Twitter: https://twitter.com/glutenology
*These statements have not been evaluated by the Food and Drug Administration. This video is not intended to diagnose, treat, cure or prevent any disease. It is strictly intended for educational purposes only. Additionally, this information is not intended to replace the advice of your physician. Dr. Osborne is not a medical doctor. He does not treat or diagnose disease. He offers nutritional support to people seeking an alternative from traditional medicine. Dr. Osborne is licensed with the Pastoral Medical Association.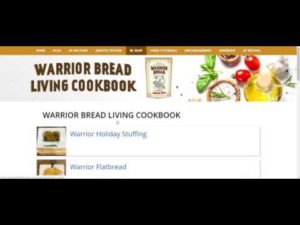 Grab Warrior Bread Here: https://www.glutenfreesociety.org/shop/supplements/warrior-bread-grain-free-bread-mix-presale/ Check out our...